Beyoncé, Rihanna and Adele's Domination of MTV's VMAs Proves 2016 Belongs to Pop's Queens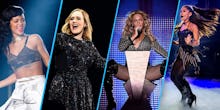 The reigning queens of music raked in the nominations during Tuesday's live announcements of the 2016 MTV Video Music Awards, with Beyoncé earning more nominations than any other artist for her opus that is Lemonade. Her 11 nominations — 12 if you include Destiny Child's feature on 99 Souls' "The Girl is Mine" for best electronic video — is only followed by her fellow queen across the pond, Adele, who earned herself eight total awards. 
Ariana Grande came next as MTV's third leading lady, picking up five awards, followed by Rihanna with four — whose shoulder dancing appearance in "This Is What you Came For" helped Calvin Harris earn himself a nomination for best male video award. All the nods go to underscore a very clear reality about this year in music so far: women have driven nearly every major storyline.
Of course, there were some notable male mainstays who collected quite a few nominations, including Drake, Justin Bieber, Bryson Tiller and Kanye West, whose controversial "Famous" video earned him a spot in the video of the year category. However, most of the intrigue surrounding that video was notably driven by the way it depicted and arranged its female figures Rihanna, Taylor Swift, his wife Kim Kardashian West and even Caitlyn Jenner.
Bieber's "Sorry" video also positioned him in the video of the year category, though the Canadian-bornhitmaker never once appears in the video. Instead, its a dance video featuring only women going off in synchronized rhythm to the catchy beat. 
Of course, most of the attention will surround Beyoncé's inspired Lemonade. As Mic's Jamilah King previously reported, the international superstar's sixth album, a visual storytelling narrative, is the magic we should expect when the industry allow black women control their art. 
"Lemonade was everything that fans wanted, and more," King wrote. "It was epic, it was beautiful, it was salacious, it was sexy, it was honest and it was not sorry ... It echoed the pain of heartache and the sweetness of revenge. And it did all of this while shattering perceptions that black people don't make country songs or believe in their Second Amendment right to bear arms." It's offered a platform for Beyoncé to finally move her political views and critiques out of the margins of her music and into the center.
As for rising artists, Alessia Cara enters the nominations this year for best pop video award with her single, "Wild Things." Cara's music focuses on, among other things, body positivity, self-love and female empowerment. 
The best choreography award features only female artists, including two videos by Beyoncé, FKA Twigs, Florence + the Machine and Missy Elliot with her official comeback song "WTF (Where They From)."
As for who will wind up winning this year's coveted awards, fans will spend the coming weeks voting through MTV's online portal until the last minute. It's likely to be a tight race in many categories, but for music's top women, the nominations proved to be ever in their favor.
Here's hoping some of the greatest music videos of all time, put forth by some of the most legendary women in the history of the VMAs, receive the recognition they deserve. 
Read more: