7 Things People Have Said About First Ladies That Will Never Be Said About Bill Clinton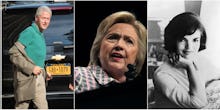 Former President of the United States Bill Clinton spoke at the Democratic National Convention Tuesday night, prompting people on Twitter to envision a future Clinton/Kaine administration with Bill Clinton in the "first lady" role: 
Traditionally, the first lady has been held to strict gendered expectations, not to mention gendered criticisms: As Margaret Truman writes in her book First Ladies, the role is "undefined, frequently misunderstood and subject to political attacks far nastier in some ways than any president has ever faced."
While the first lady is not an elected position in the U.S. government, she's nonetheless expected to be both a representative for her husband's administration and a paragon of conventional femininity. When she falls short of such standards, she pays the price, either by being labeled a strident, aggressive bitch or by being praised for her fashion sense and physical appearance instead of her professional credentials. Michelle Obama, for instance, is a Harvard and Princeton-educated lawyer — yet back in 2008, all anyone wanted to talk about was her Jason Wu sheaths and impossibly muscular arms.
As first husband, Bill Clinton would be precedent-setting: He would be the first man to hold the position, not to mention a former president. Yet he also will likely never be met with any of the personal, gendered attacks that have been lobbed at his wife and former first ladies; he won't, for instance, be criticized for his choice in blazers or forced to bake chocolate chip cookies to appease his critics. Here are some of the most sexist things ever said about America's first ladies that Bill will never have to hear:
CNN's Judy Woodruff used the above adjectives to describe Jacqueline Kennedy, Laura Bush and Hillary Rodham Clinton, respectively — three women with degrees in French literature, an Elie Wiesel humanitarian award and a JD from Yale. But OK, Judy Woodruff, go ahead and use the term "glamorous" to describe a woman who has a library and a major architectural award named after her. After all, she wore cute sunglasses. 
2. "Attractive" and "classy"
During the 2007 post-Democratic debate coverage, MSNBC's Chris Matthews couldn't STFU about future FLOTUS Michelle Obama's style choices, saying she "looked perfect," "well-turned out," "attractive" and "classy." Of course, Michelle Obama is a graduate of Princeton and Harvard Universities and a former employee of the Harvard Legal Aid Bureau — not, as Matthews apparently thinks, a brassy dame from a 1960s Rat Pack caper. 
3. "Quite feisty"
Hey political commentators: Looking for a polite, non-sexist way to refer to a verbose female candidate? Why not call her "feisty" and call it a day, as Wolf Blitzer and Christiane Amanpour did after a 2014 interview with the former Secretary of State? Who cares if it's a term usually reserved for small dogs and plucky orphans? It's certainly a lot less objectionable than "bitch who just won't shut her yapper." 
4. "Gucci-clad"
If you're a hack political writer who has nothing of note to say about a first lady, it's pretty much always a good idea to resort to judgments about her wardrobe. No one knows this better than the British publication the Daily Mail, which referred to former FLOTUS Nancy Reagan as "the formidable first lady who ran the White House with love [and] a Gucci-clad fist." 
Never mind that Nancy Reagan was also an accomplished actor and the founder of the extremely popular (albeit highly controversial) "Just Say No" 1980s anti-drug campaign. But as long as we can talk about what designer brand she was wearing, who cares what else she did with her life? Check out that sweet pussy bow blouse! 
5. "Stalin in petticoats"
During her husband's administration, first lady Eleanor Roosevelt sparked controversy for straying from the first lady norm, becoming involved in matters of policy instead of restricting herself to hosting tea parties. This earned her unflattering monikers like "Madam President," "Lenin in skirts," "Stalin in petticoats" and "Empress Eleanor"; the sexism grew so intense that she refused to speak to male journalists at press functions, instead inviting only women to interview her at her White House #girlsquad. 
During the Carter administration, President Jimmy Carter and Rosalynn Carter were known for their equitable relationship, with the president referring to his wife as "a political partner of mine." Yet when President Carter sent his wife to conduct a series of good will talks in several Latin American countries during the summer of 1977, international delegates were furious that the commander-in-chief would send a woman to conduct international affairs. A Brazilian journalist wrote that it was akin to being promoted from "the backyard of U.S. foreign policy ... to the kitchen." Of course, Rosalynn Carter's trip turned out to be a smashing success, likely prompting that sexist male journalist to down a few caipirinhas and put his foot in his boca. 
First lady Lady Bird Johnson was the author of her own eponymous bill — a highway beautification act — and the recipient of the Congressional Gold Medal, making her the first first lady to receive such an honor. Yet when Good Housekeeping ran a profile of Johnson in 1968, the magazine wasn't so much interested in her credentials or her savvy business acumen as her ability to pluck her eyebrows. 
The piece is a veritable potpourri of sexist stereotypes, with writer Ruth Montgomery noting that "in addition to being competent, the new first lady is friendly, good-looking, intelligent and faultlessly groomed." Imagine the New York Times saying the same about Bill Clinton today. 
Read more: