Alan Grayson Un-Endorsed by Liberal Groups After Reports of Domestic Violence Emerge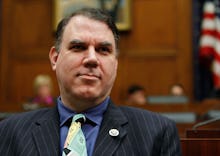 Lolita Grayson, the ex-wife of Democratic Florida Rep. Alan Grayson, has gone public with allegations her former husband regularly beat her over the course of two decades from 1994 to 2014.
While reports of Grayson's alleged violent behavior first broke in 2014, the accusations released this week are much more extensive.
Lolita Grayon's story is backed with hard evidence in the form of police and medical documents, according to Politico, which also reported she "called police on her husband at least two times in Virginia and two more times in Florida, sought medical attention on at least two occasions and said that, in one instance, he had threatened to kill her."
From Politico:
"I want the people to know my story so they know what kind of man Alan Grayson really is," Lolita Grayson, 56, said in an email to Politico, her first public comments on the issue. She provided police and medical records related to 1994 and 1999 incidents in Fairfax County in Virginia, and sheriff's reports concerning 2005 and 2014 incidents in Orange County, Florida.
"These are very painful memories and horrible experiences," she continued in the email. 
The congressman's attorney, Mark NeJame, told the site his client had never hit his wife and called her a "disturbed woman. She has made one false allegation after another. Her own daughter refutes her." According to NeJame, police investigations of the alleged assaults were unable to turn up any evidence of arrests or charges.
By late afternoon Tuesday, progressive groups Democracy For America and the Progressive Change Campaign Committee had withdrawn their endorsement of him for the U.S. Senate, where Grayson is running a tight primary race against fellow Democratic Rep. Patrick Murphy for the nomination against their likely Republican opponent, incumbent Sen. Marco Rubio.
On Tuesday afternoon, Politico reporter Edward-Isaac Dovere ran into Grayson near an event at the ongoing Democratic National Convention in Philadelphia and attempted to question the representative about the allegations. Things quickly turned extremely hostile, with Grayson saying he would "be handing [Dovere] over to the Capitol Police" for "getting in my face and being a fool, and pushing me as I was trying to leave this event." In a video of the incident, Dovere says that Grayson had initiated physical contact. 
But, as the Washington Post reported, an extended video of the interaction appeared to show Grayson attempting to shove Dovere out of the way first.
Controversy over allegations of domestic violence is nothing new to Grayson. In 2012, he accused his divorced Republican opponent Todd Long of "beating [his] wife," reported the Miami Herald, years before news of allegations against Grayson became public.
Read more: