Hillary Clinton Just Became the First Woman Ever Nominated by a Major Party at 2016 DNC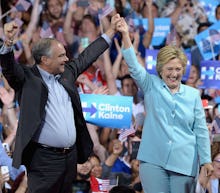 PHILADELPHIA — Hillary Clinton on Tuesday officially became the Democratic presidential nominee, after delegates at the Democratic National Convention cemented her victory in a roll call vote.
Her nomination marks a historic moment in American history, as she is now the first female nominee of a major political party.
Clinton surpassed the delegate threshold needed to secure the nomination after South Dakota announced its votes during the roll call at the Wells Fargo Center here.
And in a moment of unity the Clinton camp had been waiting for, Sen. Bernie Sanders joined the Vermont delegation to move to nominate Clinton by acclimation.
"It is with a full heart that I am here today as we nominate Hillary Clinton to be the first woman president. Sen. Barbara Mikulski, the first woman elected to the Senate from Maryland and a longtime friend of the Clintons, said as she placed Clinton's name in nomination.
Mikulski championed Clinton as a committed fighter for economic fairness and women's rights.
After Mikulski left the podium, civil rights icon Rep. John Lewis of Georgia seconded Clinton's nomination, saying, "We have come too far, we have made too much progress. And we are not going back. We are going forward."
"We will shatter that glass ceiling again," Lewis said, comparing Clinton's barrier-breaking candidacy to President Barack Obama's historic election victories.
With her nomination, Clinton will now officially embark on a general election fight with Republican nominee Donald Trump — seeking to put the final crack in the glass ceiling to become the first female president of the United States.
Whether Clinton would be the nominee was never in doubt heading into Tuesday's vote. She had 1,000 more delegates than Sen. Bernie Sanders. And Sanders himself conceded the nomination, urging his supporters to vote for Clinton in November.
But what remained uncertain was how Sanders' supporters would behave.
On the first night of the DNC, many Sanders delegates booed and jeered at speakers who mentioned Clinton's name, causing a raucous scene on a night Democrats wanted to portray a unified front.
Sanders and his team sought to temper that behavior, sending out messages to his delegates and meeting with state delegations to encourage them not to protest her nomination Tuesday night.
Read more: