Some Democrats See Clashing Images in Speeches by Bill Clinton and Mothers of the Movement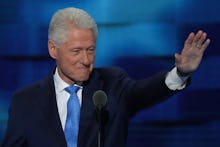 PHILADELPHIA — Bill Clinton electrified the Democratic National Convention here on Tuesday night, forcefully making the case for his wife's election to the office he occupied for eight years.
But for some, there was a bitter irony in the former president's appearance, coming hours after delegates heard from the Mothers of the Movement, a group of black women who have lost children to gun violence, police killings or deaths while incarcerated.
After all, it was Bill Clinton who helped nudge the Democratic Party to the right on criminal justice issues amid the late 20th-century crime wave, toughening federal sentencing rules, deploying 100,000 new police officers and fueling what Hillary Clinton herself has called an "era of mass incarceration."
"It's a mockery," Kay West, a Bernie Sanders delegate from Houston, Texas, said of the dual appearances. "I understand for those women — I get that as a black mother. I couldn't imagine if my sons were killed, and especially if they were killed by police. [But] he added to the incarceration business."
Holding one of Clinton's "Stronger Together" campaign signs — but with letters blacked out so it read "Stop Her" — West, who was participating in a pro-Sanders protest at the convention site here, said that Hillary Clinton was culpable in her husband's tough-on-crime policies.
"His own wife sat there and said we need to take them to heel. Those same children that died, she said we need to take them to heel," West said, referring to a 1996 speech in which Clinton warned of youth "super-predators" with "no conscience [and] no empathy." Amid fierce criticism from Black Lives Matter activists, Clinton apologized for those remarks in February.
A complicated history: Notably, the Clintons garnered widespread support among blacks as they championed a crackdown on crime two decades ago.
Seeing their communities ravaged by gang violence and drug crime, prominent black leaders endorsed Bill Clinton's 1994 crime bill imposing harsh sentencing requirements, and a Gallup poll from the time found that nonwhites actually supported the legislation in greater numbers (58%) than whites (49%).
Moreover, black voters overwhelmingly backed Hillary Clinton in her primary campaign against Sanders, awarding her 76% of their votes to Sanders' 23%. Clinton spent much of the primary season campaigning with the Mothers of the Movement, including Geneva Reed-Veal, whose daughter Sandra Bland died in police custody in 2015.
"What a blessing tonight to be standing here, so that Sandy can still speak through her mama," Reed-Veal said Tuesday night. "And what a blessing it is for all of us if we seize it, we gotta seize it, to cast our votes for a president who will help lead us down the path toward restoration and change.
Younger black voters — many of whom rose to political consciousness amid mounting public protests over cases like Bland's — aren't as keen on Clinton as their forebears. Exit polls showed that Sanders actually narrowly beat Clinton among African-Americans younger than 30.
For many such voters, Bill Clinton's legacy is inextricably linked to policies they consider anathema.
"I have a problem [with Hillary] because of her husband. The mass incarceration is huge for me," said Shonita Roach, a convention guest from Madison, Wisconsin.
While Hillary Clinton has pledged to reform the criminal justice system by overhauling sentencing laws and forging closer ties between police departments and the communities they serve, Roach voiced suspicion that she would follow through.
"Everyone screams 'reform, reform,' and nothing changes," she said. "I am leery of her carrying out policies and procedures that her husband once implemented."
But like his wife, Bill Clinton has also expressed regret for his crime policy.
"The problem is the way it was written and implemented is we cast too wide a net and we had too many people in prison," he told CNN last year. "And we wound up...putting so many people in prison that there wasn't enough money left to educate them, train them for new jobs and increase the chances when they came out so they could live productive lives."
Yet Clinton — who bristles at efforts to undercut his administration's achievements — has also relapsed into defenses of his criminal justice policies.
At a campaign stop in Philadelphia in April, the former president erupted at Black Lives Matter activists heckling his speech, charging that the activists were "defending the people who killed the lives you say matter."
For her part, Hillary Clinton has hewed closely to the reform agenda espoused by an odd-bedfellows coalition of liberal Democrats and conservative Republicans. The presence of the Mothers of the Movement here underscored her alignment with many reform activists.
It also signified something else: For all his ability to charm and bedazzle his fellow partisans, this isn't Bill Clinton's party anymore.
Read more: