Angry Bernie Sanders Delegates Stage Occupation at DNC 2016 After Clinton's Nomination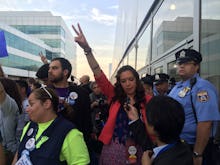 PHILADELPHIA — Talk about contrasting images.
Minutes after Bernie Sanders sought to bring unity to the Democratic Party, moving to recognize erstwhile rival Hillary Clinton as its presidential nominee at the Democratic National Convention, supporters of the Vermont senator stormed the media filing center outside the Wells Fargo Center in protest — underscoring that Sanders' appeals for unity have gone unheeded by many foot soldiers in his "political revolution."
With many bearing signs supporting the "Bernie or Bust" movement and opposing the Trans-Pacific Partnership trade agreement, an estimated 150 demonstrators both inside and outside the media tent decried what they described as a crooked nominating process.
As police kept watch inside the media tent and sought to prevent other protesters from entering, the occupation, organized by Sanders delegate and political activist Shyla Nelson of Burlington, Vermont, vividly demonstrated the frustration felt by many of the senator's backers who see Clinton as emblematic of a corporate-friendly status quo.
Nelson called the delegate protests a "gesture of solidarity" with Sanders voters who'd sent them to the convention.
"It's fair to say that had Bernard Sanders secured the nomination, you would not see national delegates outside in the streets," she said.
"I think that this election was rigged," said Angie Morelli, 33, a Sanders delegate from Nevada. "We have specifically been treated very poorly since we got here," she added, alleging that Sanders delegates had been on the receiving end of "threatening comments" and physical intimidation.
"Just crappy little microaggressions that we don't need," Morelli said.
Morelli told Mic that she caught wind of plans to occupy the media tent earlier Tuesday, and that Sanders' move to recognize Clinton's nomination was "the last straw" for many of his most fervent backers.
But while there was no shortage of anti-Clinton rage from the protesters, polls suggest they're a decided minority of Sanders supporters. According to the Pew Research Center, 90% of Sanders' most consistent backers are supporting Clinton in her general election battle against Republican nominee Donald Trump.
Stefan Becket contributed reporting.