Watch Andra Day's Stunning 2016 DNC Performance of "Rise Up"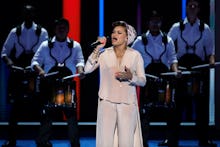 PHILADELPHIA — R&B singer Andra Day delivered a powerful performance of her hit song "Rise Up" at the Democratic National Convention on Tuesday night, a performance that followed powerful speeches from the "Mothers of the Movement" — black mothers who lost their children to police and gun violence.
The song's lyrics were a fitting follow to the Mothers of the Movement's speeches, which focused on coming together to remember their children and work together to try and prevent future deaths like theirs.
"All we need, all we need is hope/ And for that we have each other/ And for that we have each other/ We will rise/ We will rise," Day sang.
"All we need, all we need is hope
Watch Day's performance, accompanied by United Percussion, below:
Read more: