Bill Clinton Rouses Democrats With DNC 2016 Speech Pitching Hillary as a "Change-Maker"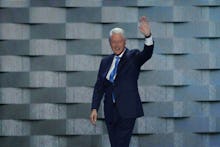 PHILADELPHIA — Former President Bill Clinton sought to humanize Hillary Clinton on Tuesday night at the Democratic National Convention, telling stories about how the couple met and her work fighting for social justice during their time at law school.
"She always wants to move the ball forward. That's just who she is," the former president said, adding that throughout her career she was "always making things better."
The room was rapt as Clinton spoke, eating up the personal anecdotes about a woman who's been described as "the most famous person you don't know."
It could resonate with millennials, a group of voters who backed Sen. Bernie Sanders in large numbers who are unfamiliar with her early years in public life.
Unlike his 2012 speech at President Barack Obama's Democratic National Convention — which was hailed as one of the best of that year's gathering — Bill Clinton wasn't fiery.
Instead, he was folksy as he told stories of meeting Hillary at Yale Law School, helping encourage her to have her own career and raising their daughter, Chelsea Clinton.
Clinton also made the case that electing his wife is a moral imperative for the country over Donald Trump, saying, "She'll never quit when the going gets tough. She'll never quit on you."
"I hope you will do it. I hope you will elect her," he said at the end of his remarks. "Those of us who have more yesterdays than tomorrows tend to care more about our children and grandchildren. The reason you should elect her is that in the greatest country on Earth, we have always been about tomorrow. Your children and grandchildren will bless you forever if you do."
Read more: