Watch Alicia Keys' DNC 2016 Performance of "Superwoman" and "In Common"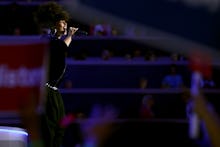 PHILADELPHIA — Alicia Keys celebrated Hillary Clinton's history-making nomination at the Democratic National Convention, ending the night Tuesday with a performance of "Superwoman" and "In Common," and declaring the night "an incredible night for American history."
Keys, who dedicated the performance to the Mothers of the Movement, also sought to bring supporters of Clinton and Sen. Bernie Sanders together because "we have to show the world that bigotry can't win."
"Tonight is a celebration because we are stronger together," Keys said.
Watch her entire performance below:
Read more: