Seth Meyers Gives "Bernie or Bust" Voters a Reality Check: "The House Is on Fire"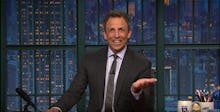 Bernie-or-Busters, Seth Meyers has a message to share.
On Tuesday's episode of Late Night With Seth Meyers, the host debuted a new segment for the show, "Hey!" in response to the the "Bernie or Bust" movement, the name commonly given to the Bernie Sanders followers who are refusing to support Democratic presidential candidate Hillary Clinton.
With Donald Trump performing well in some polls, Meyers explained that the "Bernie or Bust" followers are only making Trump's potential election as commander in chief more likely, which is a very troubling sign. 
"The house is on fire, stop crying because we're not putting it out with your hose," Meyers said. "We're on the cusp of electing a racist demagogue, and that never ends well. I don't know what class you ditched to go to those Bernie rallies, but I have a feeling it was history." 
Moreover, Meyers humorously noted that if the Bernie supporters were going to insist they were being silenced while protesting the Clinton nomination, they should at the very least refuse to do on-air interviews when they have already taped their mouths shut. 
"Bernie did a great job, you did a great job," Meyers concluded, addressing the Bernie supporters. "Your passion changed the Democratic Party and that is no small thing. You should be proud of yourselves for his campaign. But also, you have to be quiet now! Now is the time to be quiet!"  
Watch Meyers' segment in full below.
Read more: