Why Bill Clinton's DNC Style Deserves as Much Scrutiny as Hillary Clinton's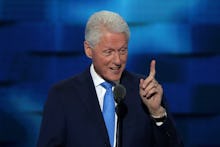 At the Democratic National Convention in Philadelphia on Tuesday, Bill Clinton walked on stage looking polished and composed. His suit was slim; his tie was blue. If you had been living in a cave for the past 30 years, you would have thought he was taking the stage as a presidential hopeful. 
But in reality, given that his wife is Hillary Clinton, he was taking the stage as America's first hopeful first gentleman, since he is the first man who has ever been this close to becoming an American female president's spouse in the White House. 
As such, Clinton is opening himself up to be spoken about and analyzed just like any other first spouse would be, which means a focus on his clothes. If we believe in equality, then yes, we should be absolutely OK with talking about Bill Clinton's fashion. 
Judging from his appearance on Tuesday, he knows that's partly what we'll be trying to do. With his clothing, Clinton seemed to be taking notes from our current first lady, Michelle Obama, who spoke in support of Hillary Clinton at the DNC on Monday. To the convention, they both wore Democrat blue and held back from making any sort of fashion statement, choosing simple lines and textures. The focus should be, after all, on the nominee. 
So far, what Bill Clinton's style shows is that he knows his role right now, and it's to blend into the background when necessary, but come out swinging when necessary too. As a first spouse, your role is to also enthusiastically humanize your partner, giving personal anecdotes, like how the two of you first met, and what good of a parent they really are. It is also a first spouse's place to be a visually compelling and relatable counterpart to their spouse.
That's all the more important given that he is effectively in charge of setting the standard for how an American first gentleman can dress. It's a lot of pressure on the man. 
However, what should be pointed out is the reality that dressing Clinton as first gentleman will be much, much easier than dressing as a first lady was for his wife. Though people may be paying more attention to Clinton's fashion — much like they did in the U.K. with Philip May, Prime Minister Theresa May's husband, who's already made headlines like "Theresa May's husband steals the show in sexy navy suit as he starts new life as First Man" — there will likely be no critiques of their makeup or how dowdy they dress, which are both critiques that have been leveled against Hillary Clinton for literal decades.  
Unlike women, men don't automatically have to show off their sense of style to ensure their worth, but that's not saying Clinton shouldn't in this case. Having an American first gentleman embracing fashion every now and again would be just as fine as it is for a first lady to do it, too. If Michelle Obama got away with wearing shoes from J.Crew, why shouldn't Clinton? If Obama wants to highlight young American designers, why shouldn't Clinton? 
In a world devoid of sexism, there should really not be a difference at all. 
Right now, Clinton is clearly taking cues from the current first lady, but Clinton could also look abroad at how some of the other male spouses of prime ministers and chancellors present themselves, while fully knowing that people are definitely paying attention to their fashion for once. 
For example, he can easily look over at Philip May, who, much like himself so far, sticks to neutrals like black and blue, but unlike Clinton so far, he isn't afraid of a little style risk-taking, sometimes opting for tweed and linen suits, as well as a pink shirt. 
There's also Joachim Sauer, German chancellor Angela Merkel's husband, whose style could best be described as dapper and professional, with him opting for classic tuxes while also embracing tweed suits and even bowties. 
At the end of the day, if we do indeed get our first gentleman in November, Clinton will be the one who defines what it means and looks like to be the male spouse of a female American president. He will be the one who determines if first gentlemen will be responsible for picking out the White House china (just like first ladies have done for years), or decorating the White House (just like first ladies have done for years). 
But selfishly, if Bill Clinton does end up being first gentleman, let's hope he embraces the role and starts to have fun with fashion. After all, he'd be able to get away with wearing a pink suit much easier than any woman could. 
Read more: