"Bernie or Bust" Protesters Compare Movement to Martin Luther King's March on Washington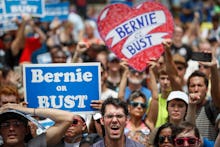 About 150 "Bernie or Bust" demonstrators stormed the media tent at the Democratic National Convention on Tuesday evening to tell people one thing: They have a dream.
While speaking to BuzzFeed, one Bernie Sanders delegate from Vermont, Shyla Nelson, compared the Sanders movement to Martin Luther King Jr.'s March on Washington, where King delivered his famous "I Have a Dream" speech. Sanders famously attended the rally.  
"The March on Washington was an example of a movement at a high point, and I'd say this is one of those," Nelson said to BuzzFeed.  
However, the protesters' awkward racial rhetoric did not end there: They also carried a banner that said "No Justice, No Peace" with a Bernie sign held to the side. 
A message from King inspired the phrase to show that the anti-war movement and the civil rights movement should work together.
"There can be no justice without peace," he said. "And there can be no peace without justice."
The exact phrase "no justice, no peace" made its earliest appearance in print in a 1987 Newsday article describing protests after the death of Michael Griffith, who was killed while fleeing a gang of white teenagers in Howard Beach, Queens, New York. Black Lives Matter activists have also used the phrase to decry police killings of black people throughout America. 
On Tuesday night, after Clinton secured the Democratic Party's nomination for president, the Mothers of the Movement — the mothers of Trayvon Martin, Jordan Davis, Sandra Bland and others who were killed due to police brutality or racially charged violence — spoke about what happens when there is no justice and no peace for black people in America.