Qualcomm Agrees to Pay $20M for Not Promoting Women, Paying Them Less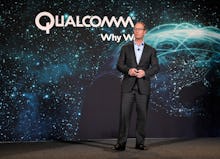 Qualcomm, a nearly $100 billion company and one of the largest digital chip-makers in the world, is paying out nearly $20 million to settle a class-action lawsuit brought by a group of former employees who accused the company of gender discrimination, the Associated Press reported Tuesday. 
The suit claims bosses at Qualcomm condoned casual and overt workplace sexism. Plaintiffs allege female Qualcomm employees were not only penalized for coming in early — as opposed to working late, which is harder for working parents — but they were also routinely passed over for leadership positions at the company in favor of men, and received lower salaries for equal work.
Women hold less than 15% of senior leadership positions at Qualcomm, according to the suit, the Associated Press reported.
"While we have strong defenses to the claims, we elected to focus on continuing to make meaningful enhancements to our internal programs and processes that drive equity and a diverse and inclusive workforce, which are values that we share and embrace," Qualcomm wrote in a statement to Recode.
The settlement is still subject to court approval. Assuming the agreement stands, San Diego-based Qualcomm will also have to make adjustments to its procedures regarding promotions, and will be required to hire an internal compliance officer to uphold the settlement's terms, USA Today reported.
Payments will be split among roughly 3,330 current and former employees, who — after legal fees and taxes — can expect to pocket about $4,000 each, according to the Wall Street Journal.
Attorneys for the plaintiffs said to the Wall Street Journal that it's somewhat unusual for a company to negotiate such large terms out of court. 
Last year, venture capitalist Ellen Pao brought a high-profile gender discrimination suit against her former employer, Kleiner Perkins Caufield & Byers, one of the largest venture capital firms in Silicon Valley; Pao lost her suit, which sought $16 million in damages.
Trae Vassallo, a former general partner at Kleiner Perkins, co-authored a study published in January finding that 60% of female Silicon Valley workers report sexual harassment at the office: In two out of three cases, the harassment comes from a superior.
Read more: