"Fight Song," Hillary Clinton's Anthem, Is Earnest, Cheesy and Exactly What Americans Need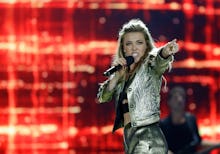 Drake's "One Dance" may be dominating the song of summer race on radio and streaming, but another song is puncturing public consciousness in a far more compelling way. It's in commercials. It plays at Hillary Clinton's campaign rallies. And now, it's a viral-ready video for the Democratic National Convention.
This, dear readers, is our "Fight Song."
Yes, "Fight Song," Rachel Platten's über-earnest anthem of self-empowerment, is the closest thing we have to a secondary contender for the song that defines summer '16. It won't win, largely because of how Billboard chooses the song of summer. But regardless, "Fight Song" is the right song for this moment in history — no matter how cheesy it may be.
There's a hokey quality to "Fight Song" that makes it an easy target for curmudgeons. It sounds like you crammed Katy Perry's "Roar" and "Firework," Pink's "Perfect," Kesha's "We R Who We R" and Lady Gaga's "Born This Way" into a blender with a little bluegrass. It might as well be called "Generic Empowerment Anthem" — there's nothing particularly special about it, nor is it very good. 
For example, look at the first part of the chorus:
This is my fight song
Any song that rhymes "song" three times in a row isn't exactly a contender for songwriting awards. Not only that, but the sincerity of "Fight Song" is unintentionally hilarious. Like Sara Bareilles' "Brave" before it, "Fight Song" can make even the most banal statements empowering. (Full disclosure: I turned it into a running joke on my Twitter. So I get how corny the song is.)
Yet the bold blandness that makes "Fight Song" a perfect punchline also makes it ideal for Clinton's campaign. The end of a political rally isn't a time for nuance. It's a time for pure emotion — in this case, enthusiasm with a knowing wink at the historical context of Clinton's candidacy.
As the first female presidential nominee from a major political party, Clinton is up against not just her opponent, but all of American history. Her very nomination breaks precedent; a win would upend the status quo. The lines that close out Platten's chorus — "And I don't really care / If nobody else believes me / 'Cause I've still got a lot of fight left in me" — feel remarkably relevant for a woman working to beat the odds. The fact that she's going up against sexism and bigotry incarnate is the icing on the cake.
Sure, maybe the song has been a bit overplayed, considering the wealth of other choices out there. And it's certainly silly to hear a star of Jane Fonda's caliber talk-singing the chorus of a basic pop song in a DNC campaign video.
Yet no matter how slight, how silly or how overplayed it is, "Fight Song" is the song many Americans need to hear right now. In a fight for our country's future, hearing that we all still have fight left in us in a cheeseball pop song is nice. It's the kind of platitude that, combined with a little hope, just might get us through this election.
Read more: