69 Philando Castile Protesters Arrested in Front of Minnesota Governor's Mansion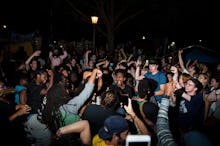 A total of 69 protesters were arrested Tuesday and Wednesday morning after Minnesota police cleared out an encampment in front of the Minnesota Governor Mark Dayton's mansion where demonstrators had been protesting the July 6 shooting of Philando Castile.
By 2:30 a.m. Wednesday morning, police said they'd arrested 23 protesters for public nuisance and unlawful assembly on Summit Avenue, the street that runs in front of the governor's mansion; 46 demonstrators had been arrested the previous day.
A revolving door of demonstrators had been camping out in front of the mansion since July 7 after 32-year-old Castile was shot by suburban police after a traffic stop, an act Gov. Dayton called "absolutely appalling on all levels."
In preparation for the sweep, protester Jacob Ladda told the Star Tribune that police were "trying to strip us of our well-being. ... They're asking us to remove water and food from the space — tents and other things that provide shade. They're using intimidation tactics rather than legal tactics."
The groups pulled from Summit Avenue this week were just the latest wave of protesters, after police cleared the street on July 18. The struggle for the space in front of the governor's mansion has been an ongoing battle between Minnesota police and protesters.
The arrests this morning come just days after protesters shut down two highways in the Minneapolis-St. Paul metro area in protest for Philando Castile, who became the 115th known black man to be shot and killed by police in 2016. Castile died less than 48 hours after Alton Sterling was shot and killed by police in Baton Rouge, Louisiana.
Read more: