These iPhone and Android Apps Are an Anxious Person's Best Tool for Dealing With Anxiety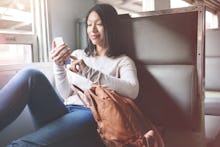 Around 18% of the adult population in the United States lives with an anxiety disorder, according to the National Institute of Mental Health.  
If you are experiencing anxiety, panic or depression, it's important to get help from a licensed professional. In addition to talking with a professional, there are lots of apps you can download that can help bring down your anxiety levels through meditation, deep breathing and techniques borrowed from different types of therapy.
Sometimes all you need is a little breathing to bring you down to earth. The $3.99 app for iPhone and Android guides you through a deep breathing exercise using simple animations. "In just five minutes you can start to reduce stress and anxiety and improve your mood," the app's website says. 
If you're interested in getting into meditation, an app like Headspace can help. The app, available on both iPhone and Android, gives you a series of guided meditations, which the people behind the app claim can help lower stress and anxiety, boost creativity and focus and improve relationships. 
A subscription to the app costs between $6.24 a month and $12.95 a month, depending on how long you sign up for.
If you're anxious, you may have trouble falling asleep at night. The "Sleep With Me" podcast is made specifically to combat your nagging inner voice that keeps you awake. The podcast describes itself as "kind of like a bedtime story for grownups, just interesting enough for you to forget your problems but boring enough to put you to sleep." Genius. 
This app connects you to a real, live therapist. The app is free on Android and iPhone, but you pay a flat, weekly rate to text your therapist as often as you'd like. It's like having a therapist in your pocket wherever you go. 
If you want to see your therapist's face, you can also pay to have a session via video chat. 
If games are more your thing, Breath of Light might be for you. It's a calming puzzle game available for iPhone or Android with a soothing soundtrack. "There are no clocks or scores, just the urge to solve puzzles as beautifully as possible," the app's site reads. 
Beautiful illustrations, calm music and a simple thing to focus on — solving a puzzle — could help you calm down. 
Of course, aside from Talkspace, which connects the user with a real, live therapist, none of the apps listed take the place of getting professional help. These apps can be used to supplement other treatment.
Read more: