This Awesome Floating House Will Break In Half When Your Relationship Inevitably Fails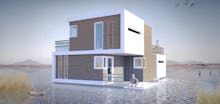 There's a delightful scene in Tyler Perry's Diary of a Mad Black Woman in which Madea slices through the middle of a couch with a chainsaw as a way to ensure that her granddaughter will get "half of everything" in the aftermath of her divorce.
This is a very extreme way to divide domestic belongings after a breakup. Another very extreme way would be to invest in a house that can literally break itself in half on demand when you decide to call it quits — which is exactly what Studio OBA in Amsterdam has designed with its "Prenuptial Housing" project.
While the concept of a house that splits itself in half might seem bizarre — and may or may not be some kind of publicity stunt (we have reached out to Studio OBA for comment and will update upon hearing back), the studio's website says that the project is "a response to the increasing divorce rates in today's society."
Here's how the whole attachment/detachment thing works, according to Studio OBA:
The architectural design consists of two prefabricated units that appear to be one. They embrace each other and form the foundation of a modern home. The building consists of lightweight carbon fiber elements and a semi-transparent wooden layer that enhances the unity and possibility to adapt to different environments. When couples feel they are drifting apart, the house initiates a 'break up', by detaching the two units which then go solo on the water.
If you haven't yet noticed: The house is technically a floating house boat, so if you hate your significant other and you're wont to get sea sick: sorry! (Though you could still go that chainsaw route.)
According to an interview with real estate website Domain.com.au, the company is still working with investors to get a physical prototype going and hopes to take orders beginning early next year.
You hear that, all you madly-in-love young couples? Soon you'll finally be able to invest in a house together without fully committing to, well, investing in a house together. How romantic!
Read more: