Donald Trump Says There Were No American Flags on the DNC Stage — He's Wrong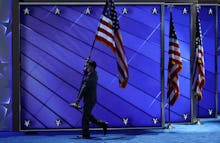 Republican nominee Donald Trump on Wednesday morning accused the Democratic National Convention of a flagrant lack of patriotism, tweeting, "Not one American flag on the massive stage at the Democratic National Convention until people started complaining — then a small one. Pathetic."
Twitter users were quick to point out he was actually flat-out wrong: There were eight American flags framing the DNC stage, clearly visible on camera when speakers entered and exited. 
Hell, actress Meryl Streep even wore one as a dress to deliver her speech at Tuesday's star-studded DNC event — while, of course, standing in front of nonsartorial American flags.
And, for anyone still doubting whether the DNC cared to add flags only after complaints, here's a still from the convention's opening Monday afternoon, showing Philadelphia teen Bobby Hill singing the national anthem surrounded by flag imagery. The flags at the Republican National Convention, like the ones seen below, were also a digital display (as seen in speakers' different backdrops here and here.)
One Twitter user said harping on the flag issue distracted from the more substantive takeaways from the first nights of the DNC, while another speculated Trump had meant the remark to be exactly that — a distraction.
And at least one Twitter user called out Trump for having a very specific flag problem himself:
Your serve, Trump.
Read more: