Rihanna Ties Madonna for Total Number of Hot 100 Hits — And Ri's Reign Is Just Beginning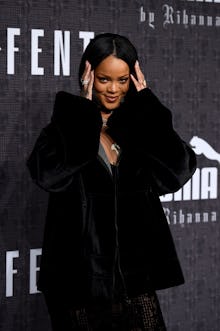 At 28 years old, Rihanna has officially tied legendary pop star Madonna for a spot in the record books tracking the most Billboard Hot 100 singles by female singers. The two now share the top four spot, following only Aretha Franklin, Taylor Swift and Nicki Minaj.
RiRi now holds 57 Hot 100 singles thanks to "Sex With Me," one of her latest album Anti's deluxe tracks, which just debuted at No. 97 on the charts. However, Rihanna is showing no signs she's content to settle for No. 4, and with every hit she moves closer to the title queen of all queens.
Rihanna is joined in the top 10 by several other iconic artists: Dionne Warwick, Connie Francis, Brenda Lee, Mariah Carey and more. Each woman has enjoyed a historic career, but Rihanna and Nicki Minaj are still very much in their prime. Taylor Swift is now arguably another story, though she still holds 12 more Top 100 spots than RiRi.
Rihanna is currently embarking on her Anti World Tour, all the while releasing new music like Star Trek's "Sledgehammer" and hosting pop-up shops with rebellious, fashion-forward tour merchandise and luxury fashion. 
Her eighth studio album was a plunge into a new arena: Instead of focusing on making each single a top hit, the Barbadian-bred hitmaker injected a multitude of genres and influences into Anti, making it the antithesis of what some might have expected an album to look like from the once fresh-faced "Pon De Replay" newcomer.
Still, those tracks have been charting anyway — a testament to Rihanna's artistic vision. Slay on, bad girl, slay on.
Read more: