U.S. Senate Cafeteria Workers Will Get $1M in Back Wages After Being Underpaid for Months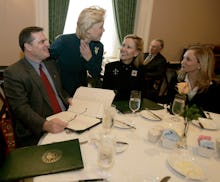 The Labor Department announced Tuesday that hundreds of cafeteria workers employed in the United States Senate's cafeteria will receive more than $1 million in withheld wages, after the department found contractors underpaid them, according to the Associated Press.
The two companies involved — Restaurant Associates and Personnel Plus — are still eligible for federal contracts, pending a further investigation.
Workers were misclassified as holding lower-paying jobs, expected to show up early for work without pay and forced to forgo overtime, welfare and health care benefits, the government found.
"Workers in the restaurant industry are among the lowest-paid workers in our economy," David Weil, head of the Labor Department's Wage and Hour Division, said in a statement. "Most struggle to afford life's basic expenses and pay their bills; they shouldn't have to deal with paychecks that don't accurately reflect their hard work and the wages to which they are legally entitled."
Until December, newly hired janitors and cafeteria workers at the Senate earned Washington's minimum wage of $10.50 an hour. They then negotiated a pay increase, bumping minimum entry-level wages to $13.30. (By contrast, U.S. senators make approximately $174,000 a year.)
The Labor Department began a probe in March after workers reported they weren't actually receiving their required raises; they subsequently discovered the other violations, including missing overtime pay.
More than 670 employees will get checks to cover back pay, averaging about $1,500 per person.
If you ever think you're owed back pay by your employer, you should immediately check the Department of Labor's database.
When violations are discovered, the department holds employees' back wages for three years and tries to track down affected workers; after that period, they must send the funds to the Treasury Department.
Read more: