'Pokémon Go' Sex Toys Are a Thing Now, Because of Course They Are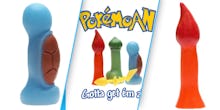 The Pokémon Go craze has already infiltrated the worlds of dining, dating, friendship, porn and even Beyoncé. So it was only a matter of time before Pokémon-themed dildos were added to the list. 
The company making this happen is Geeky Sex Toys, an Australian site that specializes in "combining pop culture with sex toys" and "re-imagining them in a fun and nerdy way." Its new "Pokémoan" (lol) collection features four different dildos: Bulby, Charmy, Squirty and Piky, named after Bulbasaur, Charmander, Squirtle and Pikachu. So if you've ever wanted to stick a Pikachu in your pikachu, now's your chance.
"We had always intended on doing a Pokémoan range of toys," a representative for Geeky Sex Toys said in an email. "When Pokémon Go came out we decided to move them up the priority list."
In case you were wondering if Nintendo is a part of this, it definitely is not. 
"It's definitely an independent thing," the site confirmed. "[Our] products are inspired by geek culture in some way or another, but we are very careful in the way we parody each fandom."
And in case you were wondering if the people who are fanatical about Pokémon Go are just as fanatical about the prospect of making love to a silicone Bulbasaur: they are.
"People are going nuts over the Pokémoan products, absolutely loving them," they said. "We have had an overwhelming response and are flat out trying to keep up."
Read More: