Fan-Made 'Star Wars' Short Shows a Dystopian Future in Which the Empire Kept Fighting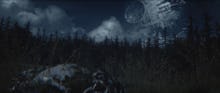 Many a Star Wars fan enjoyed the downfall of the Galactic Empire at the end of Return of the Jedi, just as raucous celebrations took over the galaxy when the second Death Star was destroyed by the Rebels. It seemed to put a nail in the coffin for the Empire — at least, until its remnants formed the First Order some three decades later in The Force Awakens. But what if the faithful Empire kept fighting back? 
Fan Trevor Kerr imagines a dystopian future in his Star Wars unofficial short film, Call of the Empire. It sets up a few years after the Battle of Endor — and we're taken back to Endor — as Kerr lays out the fragments of the forgotten battlefield with some stunning visuals. 
But the eerie setting quickly turns disruptive, as a TIE fighter pursues an X-Wing pilot across the forest moon. Again, the visuals are top-notch, and the clash culminates off-screen — with the TIE fighter making its way out of the fight unscathed. 
The film is quite short, but for fans waiting for Rogue One and Episode VIII to be released over the next two years, the film is an intriguing way to fill the time.
Watch the Call of the Empire short below.
Read more: