Nas and Erykah Badu Link Up For "This Bitter Land"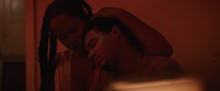 When sages like Nas and Erykah Badu link up to sing some truths, you listen and you listen good. Wednesday, Queensbridge's own and the analog girl in the digital world joined forces for "This Bitter Land," a haunting, layered track reflecting on America's bitter history of devaluing black lives and low-income communities. 
The song features Badu's ethereal vocals and Nas' sharp, dark verses and will appear on The Land's soundtrack, an independent film featuring Badu and executive produced by Nas and Machine Gun Kelly that debuted at the Sundance Film Festival. 
Listen to the track via Rolling Stone here.
"The picture centers around four boys who commit to escaping the harsh streets of Cleveland — to skateboard on the pro circuit," Okayplayer reported on the new film. "Drugs, crime and danger all come into play, as the boys are tested by fame, success and tragedy." 
"This bitter land/ Watered with my soul," Badu croons. "The fruit it bares leaves me so cold/ This bitter land does nothing for love/ This bitter land brings pain above all hope."
Nas' spot on the track speaks to the themes of The Land, in which the struggle to achieve one's goals are stifled by the poverty and obstacles that envelop their communities: "Life is like a test/ Life is like the hood, hard/ Trying not to fall between the cracks, and the cracks are so dark/ And the dark seems more appealing than the light in the land."
July 27, 2016, 11:52 a.m.: This story has been updated.
Read more: