Donald Trump Just Asked Russia to Hack the US Government in a Truly Terrifying Meltdown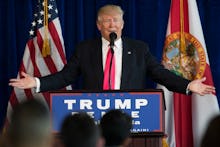 PHILADELPHIA — Donald Trump melted down at a news conference on Wednesday, where he asked the Russian government to hack government emails, called the standards against torture "out of date" and shushed a female reporter.
Trump's bizarre series of comments came hours after his campaign announced Trump would not release his tax returns, nor prove whether he has financial ties to Russia.
The comments handed Democrats and their presidential nominee Hillary Clinton a new barrage of attack lines against Trump's foreign policy qualifications on the very day Democrats were set to criticize him as a threat to national security at the Democratic National Convention here in Philadelphia.
Throughout the rambling press conference, Trump challenged the Russians to hack the United States government to find Clinton's emails — a comment that suggests Trump is OK with foreign governments accessing American intelligence.
"Russia, if you're listening, I hope you're able to find the 30,000 emails that are missing," Trump said.
He went on to shush NBC reporter Katy Tur after she pressed him on whether he had reservations about asking Russia, which has been hostile toward the United States, about hacking into United States government private data.
"Be quiet," Trump said to Tur.
"I know you want to, you know, save her," he added, referring to Clinton.
He also mentioned Russian President Vladimir Putin doesn't respect President Barack Obama, and said Putin called Obama the "N-word." But he added Putin would respect Trump.
"No. 1: He doesn't like him. No. 2: He doesn't respect him," Trump said of Putin's thoughts on Obama. "I think he's going to respect your president if I'm elected, and I hope he likes me. Yes, yes, sir. Yes, sir."
Democrats, for their part, are set to trot out a number of foreign policy figures to say Trump is unqualified to be commander in chief during primetime speeches at the DNC — including Obama and Vice President Joe Biden.
July 27, 2016, 12:38 p.m. Eastern: This story has been updated.
Read more: