Democratic Convention 2016 Day 3: Speakers, Start Time, How to Watch and More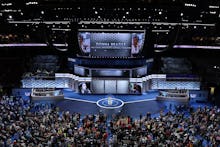 The 2016 Democratic National Convention is in full swing in Philadelphia, with day three set to kick off Wednesday night.
The first two days have packed a number of breakout moments: Bernie Sanders supporters staged a sit-in to protest what they described as a "crooked nominating process"; first lady Michelle Obama brought the house down with an unapologetically black keynote speech; and Hollywood stars Lena Dunham and America Ferrera took the stage to slam Republican nominee Donald Trump's divisive campaign rhetoric.
So, what's on the docket for day three?
Big-name speakers on Wednesday include civil rights leader the Rev. Jesse Jackson; TV personality Star Jones, actresses Angela Bassett and Sigourney Weaver; Senate Democratic Leader Harry Reid; and former Arizona Rep. Gabrielle Giffords.
Later in the night, the heavyweights will come out:  Vice President Joe Biden, former New York Mayor Michael Bloomberg and sitting President Barack Obama will all speak. Afterwards, at 10 p.m. Eastern, Clinton's vice presidential running mate Tim Kaine will make his first remarks at the convention.
Wednesday night's ceremony is also sure to invoke the looming specter of Republican rival Trump, who earlier in the day made bizarre comments seemingly aimed at encouraging the same Russians suspected of leaking the Democratic National Committee emails to mine for Clinton's "... 30,000 emails that are missing."
Full livestream footage of Wednesday night's convention coverage is available here.
Read more: