What Would Bill Clinton Be Called if Hillary Clinton Is Elected President?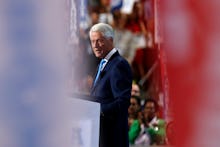 Hillary Clinton's historic nomination for president by the Democratic Party Tuesday night has raised a number of important questions, perhaps most importantly: What the heck would we call her husband, former United States President Bill Clinton, if she were to take office?
With Hillary on the ballot for a potentially historic term as the first female president of the United States, her would-be title in the case of a victory — "Madam President" — is already a lock. But for her husband, who would theoretically become the country's first "First Gentleman," the nomenclature is a bit thornier.
Clinton herself addressed the title conundrum during a 2015 segment on Jimmy Kimmel Live!, helpfully tossing a few of her own suggestions: "First Dude, First Mate, First Gentleman? I'm just not sure about it," she quips in the clip.
Furthermore, Bill's status as a former U.S. president complicates thing even more. As Clinton notes in the clip, past presidents are still referred to as "Mr. President," even after they've left office — leaving us in more of a pickle than we would have been in, had Bill lived his entire life as a mere mortal civilian like the rest of us.
Even trickier than nailing down Bill's official title is the issue of the role he would play in the White House. As Kimmel notes in the interview, the first lady has traditionally been tasked with an array of ladylike tasks, including selecting the china on which dignitaries and heads of state will dine during visits to the White House. 
"So will Bill do that?" Kimmel asks. "While you're actually in China, will he be selecting it?"
We'll have to wait until 2017 to find out — that is, unless the presidential election happens to swing in a different direction come November.
Read more: