Michael Bloomberg Shouldn't Have Been Invited to the DNC, Muslim Delegates Say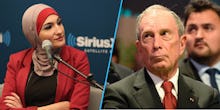 Former New York City Mayor Michael Bloomberg will be featured as a headline speaker on Wednesday at the Democratic National Convention in Philadelphia — a huge blow to Muslim Democrat delegates and the greater American Muslim community, some activists say.
Several Muslim delegates at the DNC expressed strong disapproval of Bloomberg's scheduled appearance in the third night of the convention, The Intercept reported. 
The former mayor was involved in implementing one of the most controversial programs in New York City: The New York Police Department's sweeping surveillance program of Muslim Americans. 
Civil rights activist Linda Sarsour is one of many Muslim delegates at the DNC that is outspoken in their objection of Bloomberg's speaking engagement. 
"Michael Bloomberg allowed and justified wholesale surveillance of Muslims under his watch," Sarsour told The Intercept. "How can we be mad at Cruz, but then give a platform to a former mayor of a city that targeted Muslims for their faith?" 
Sarsour has a very compelling point. In the wake of the Brussels attack, Sen. Ted Cruz (R-Texas) proposed that law enforcement should police and patrol Muslim neighborhoods. In fact, the 2016 presidential candidate even praised Bloomberg for his "successful" surveillance program on the Muslim community in New York. President Obama, key Democrats leaders and even NYPD Commissioner Bill Bratton quickly rushed to condemn and criticize Cruz's statements. 
There's an element of hypocrisy, as Sarsour implies. After calling out the GOP's rampant Islamophobia and anti-Muslim policy proposals, and preaching tolerance and unity, the DNC still welcomed and invited a politician that led a discriminatory and invasive programs against the Muslim American community.
This had led to a lot of skepticism on what a Hillary Clinton presidency would be like for that group. As reported by The Intercept, some Muslim delegates fear that she might implement a similar policing program.
Despite Bloomberg's political record and the objections to his DNC appearance, current DNC CEO Leah D. Daughtry defended Bloomberg's speaking engagement by arguing that this is a matter of free speech.
"It's America and we have freedom of speech, and people get to say what they want, and get to endorse who they want," Daughtry told The Intercept. "This is the big-tent party, we don't have to agree on everything, we just have to agree on the main thing."
Read More: