Olympics 2016 Preview: Here's Everything to Know Ahead of the Rio Olympics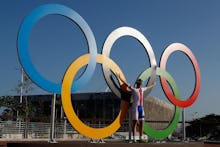 All the hype, both good and bad, around the 2016 Olympics is finally coming to a head this week as the games kick off in Brazil. While there's a litany of concerns accompanying the Rio Olympics this year — not least among them the fear of Zika virus transmission — viewers all over the world will tune in to watch the daring feats of athleticism play out onscreen. Here's everything to know about the upcoming 2016 Olympics, including dates, schedule, opening ceremony and which countries are projected to win big. 
Host Country: Brazil
Rio de Janeiro is the site of the 31st Olympiad and becomes the first South American city to ever host the Olympics. Brazil's second most populous city, with over 6.3 million people within the municipality, won its bid in 2009, edging the likes of Chicago, Madrid, and Tokyo, according to MSN. 
A record 206 countries will compete at 32 different venues in Rio, in addition to football stadiums in co-host cities Belo Horizonte, Brasilia, Manaus, Salvador and Sao Paulo.
More than 10,000 athletes will participate, headlined by Jamaican sprinter Usain Bolt and American swimmer Michael Phelps, who comes out of retirement looking to add to his record 22 medals.
Schedule
The Olympics officially start with the opening ceremony on Friday, Aug. 5, at Maracanã Stadium, though the competition will already be underway with women's football starting Aug. 3, while the men kick things off Aug. 4.
The Games continue through Sunday, Aug. 21.
Opening Ceremony
Tickets to attend the opening ceremony started at $85 USD but have since sold out, and prices have climbed on the resale market. The event itself figures to be less glamorous and glitzy than other recent opening ceremonies if the budget is any indication — this opening ceremony will use only about 10% of what was spent in London in 2012. Fernando Meirelles, one of three creative directors tasked with orchestration, pointed to concern over the country's infrastructure and other pressing issues as impetus for the frugality.
We likely won't know who is performing the honors of lighting the Rio Torch until the ceremony, though some speculation has tabbed Brazilian football legend Pele.
Those watching at home in the United States will be a bit behind on the action due to a somewhat bizarre decision by NBC. The network will broadcast the ceremony on a one-hour delay, citing a desire to provide "context" for its viewers ahead of time.
Countries Projected to Win Big
The usual suspects figure to reign supreme, including the United States, China, Russia, and the United Kingdom. Specific predictions may be tricky, but researchers at Dartmouth College could provide a hint. Utilizing a prediction model developed 10 years ago by two professors from the Tuck School of Business, graduate Camila Gonzales released predictions that boast a solid track record, given past results - the same model turned out to be 98% accurate for the London Games.
The model projects the United States to lead in both total medals with 105, edging China and Britain, as well as gold medals, with 48 over China's 38.
Problems
The pageantry synonymous with the Olympics may be overshadowed by a number of problems plaguing Rio and Brazil as a whole.
For starters, the country's leadership is in a state of flux, with president Dilma Rousseff facing impeachment after accusations of corruption. The uncertainty hasn't helped Brazil's economy, which continues to stumble.
Disease is also a concern with much of the focus on the mosquito-carried Zika virus, which has spurned some athletes to decline to participate, including American golfers Rory McIlroy and Jason Day. However, the World Health Organization has recommended that travelers should not fret.
Athletes involved in sailing and long-distance swimming could face additional health risks due to water pollution. Poor waste management has led to worries surrounding a number of viruses found in local waters.
Even when not competing, athletes face far less than ideal situations in terms of lodging. The Australian team went as far as to call their accommodations "uninhabitable" upon arriving July 24. They cited faulty plumbing, odors of gas and exposed wiring in their rooms.
The International Olympic Committee announced July 24 it would not ban Russian athletes in connection with a state-sponsored doping program that allegedly ran rampant at the Sochi Winter Games in 2014. The United States Anti-Doping Agency recommended a total ban for all of the country's athletes. However, the IOC is leaving that decision with each individual sport's governing body.
Given the number of noteworthy acts of violence taking place around the world in recent months, plenty of attention figures to be fixated on Rio's security detail. The Games will include twice as large of a security presence as seen in London in 2012, using a combined security force of 85,000 from 55 different countries. But even still, there have been a number of concerns regarding the organization of security.
Read more: