Rio Olympics 2016: Meet 9 Out LGBTQ Athletes Representing Their Countries at the Games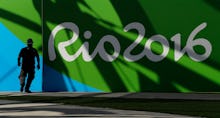 At least one record has already been broken at the 2016 Olympics in Rio de Janeiro, Brazil. According to Outsports.com, a record 44 openly LGBTQ athletes are set to participate in the games, which begin Aug. 5. 
Historically, few LGBTQ Olympians have been open about their sexuality before or during the competition. For some athletes, coming out could mean losing fanfare and sponsorships — at the very least. There are 77 countries – some of them Olympic participants – that still prosecute homosexuality, according to the BBC.  
Things are slowly changing. This year's number of out LGBTQ athletes is up from the 23 who participated in the 2012 Olympics in London — and the number may still continue to grow, according to Outsports.com. 
Let's meet the LGBTQ athletes most likely to take Rio by storm.
Seimone Augustus, Brittney Griner and Angel McCoughtry, USA, women's basketball
Looking to capture its sixth consecutive Olympic gold, the USA women's basketball team features three LGBTQ members — who also happen to be some of its biggest stars.
Seimone Augustus:
Height: 6'
Weight: 166 lbs.
Position: Forward
Age: 32
Born: Baton Rouge, Louisiana
WNBA team: Minnesota Lynx
College: Louisiana State
Bio: Two-time Olympic gold medalist, three-time WNBA champion with the Minnesota Lynx, 2011 WNBA MVP; six-time WNBA All-Star; two-time All-American; two-time Naismith College Player of the Year; two-time Wooden Award winner; two-time SEC Player of the Year.
Brittney Griner:
Height: 6'8" 
Weight: 205 lbs.
Position: Center
Age: 25
Born: Houston, TX
College: Baylor
WNBA team: Phoenix Mercury
Bio: WNBA Champion; three-time WNBA All-Star; NCAA Champion; NCAA Final Four Most Outstanding Player; AP National Player of the Year; two-time First Team All-American; No. 1 overall selection, 2013 WNBA draft.
Angel McCoughtry:
Height: 6'1"
Weight: 160 lbs.
Position: Forward
Age: 29
Born: Baltimore, Maryland
College: Louisville
WNBA team: Atlanta Dream
Bio: WNBA Rookie of the Year; four-time WNBA All-Star; two-time WNBA scoring champion; 2012 Olympic gold medalist; two-time world championship gold medalist.
Helen and Kate Richardson-Walsh, field hockey, Great Britain
Combined bio: The pair, who wed in 2013, are the only married LGBTQ couple participating in the 2016 Rio Olympics. They have three Olympic Games between them. Kate has made more than 350 national appearances for the U.K, and Helen was shortlisted for the World Player of the Year Award in 2010.
Larissa França, Beach Volleyball, Brazil
Height: 5'9"
Age: 34
Born: Fortaleza, Brazil
Bio: 2003 Pan American Games bronze medalist; 2012 Olympic bronze medalist; three-time FIVB Best Defensive Player; two-time FIVB Best Hitter; 2015 FIVB Best Offensive Player; married her teammate Liliane Maestrini in 2013.
Tom Daley, diving, Great Britain
Height: 5'10"
Weight: 163 lbs.
Born: Plymouth, Devon, U.K.
Age: 22
Bio: Olympic bronze medalist, 2012 Games; three-time Olympian; announced his sexuality on his own YouTube channel in 2013; one of eight Great Britain athletes competing openly in Rio, the most of any country.
Megan Rapinoe, soccer, USA
No reigning World Cup champion has ever won gold at the next Olympics, according to the L.A. Times. With Rapinoe on their team, the U.S. could become the first.
Height: 5'7"
Born: Redding, CA
Age: 31
College: University of Portland
Club: Seattle Reign
Bio: 2015 FIFA World Cup gold medalist; 2012 Olympics gold medalist; 2011 FIFA World Cup silver medalist; one of women's soccer's most popular players; recovering from knee surgery; one of 11 out soccer players and coaches participating, most of any sport.
Carl Hester, Great Britain, equestrian
Born: Sark, Channel Islands
Age: 49
Bio: 2012 Olympic gold medalist, two-time World Championships silver medalist; gold European Championships gold medalist; four-time European championships silver medalist, 2013 European championships bronze medalist.
Read more: