10 Facts You Probably Didn't Know About the 2016 Summer Olympic Games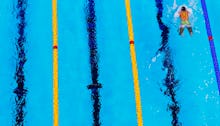 The 2016 Olympic Games are set to kick off Friday at the Maracanã Stadium in Rio de Janeiro. When they do, one of antiquity's greatest traditions will set in motion nearly three weeks of competitions ranging from basketball, to archery and volleyball, to table tennis. 
It takes a lot to navigate the world's most collaborative athletic endeavor, which this year will feature over 10,000 athletes from around the globe. Ahead of the Games' opening ceremony, here are 10 must-know facts about the 2016 Rio Olympics:
1. They take (more than) a village
7.5 million tickets are available for sale, with prices ranging from $40 to $3,000, which is what it'll cost you for an elite seat at the Opening Ceremonies. Those will take place at Maracanã Stadium, site of the highest attendant soccer game in history — the 1950 World Cup Final where 173,000 squeezed in that day despite a capacity of just 78,000, NBC News reported.
It'll take 60,000 meals per day to feed the athletes, made by many of the 70,000 or so volunteers required to host the events. The games are expected to prompt the assignment of 85,000 soldiers and police officers, the most ever deployed for a single event in the history of Brazil. The security presence will double that of London's in 2012.
2. They're going where they've never gone before
The Olympic torch will be in unfamiliar territory when it finally completes its 3.5-month journey to Rio on Friday. The summer Games have never before been hosted in South America. Representatives from 206 countries are set to compete in what will be a historic tournament from the start.
3. They features the fleetest of foot
The Rio Games will be the last hoorah for Usain Bolt, the fastest man alive and one of the two most recognizable Olympians in the world. His achievements are unmatched: Bolt is already the first sprinter ever to win consecutive golds at the 100 meters, 200 meters and 4x100 meter relay. Now he's eyeing a third straight gold in each. But the way he wins may be even more impressive: Bolt takes only 40 to 41 steps to complete his 100 meters, while other elite sprinters require 42.5 to 46 steps, according to Sports Illustrated. Bolt, whose annual income tops $32 million, is clearly a generational athlete. And he shines brightest on the world stage.
4. They feature best on the bars, too
Japanese gymnast K?hei Uchimura, known colloquially as "Superman" in his country, is looking to become the first man to repeat as all-around champion since Sawao Kato, also of Japan, did so in 1972. Uchimura has won six straight world all-around titles, while no other gymnast has ever won more than three, according to Sports Illustrated.
5. They will have golf once again
Olympic athletes will hit the links for the first time since 1904, as golf's 112-year absence in the Games comes to an end this year. Though sixteen of the world's top 100 players won't be participating due to concerns over the Zika Virus. The list of stars staying home includes No.1 Jason Day (Australia), No.2 Dustin Johnson (USA), Jordan Spieth (USA), Rory McIlroy (Northern Ireland) and Adam Scott (Australia), according to CBSSports.com
6. They'll have another newcomer, too
Rugby is also returning to the Olympic Games, for the first time in 92 years. The United States took gold in rugby's final Olympic year, 1924, defeating heavily favored France, who was also the host nation, 17-3, in a championship match watched by 50,000 spectators.
This year's games will feature rugby in its modern "sevens" form, which will be a part of the 2020 Games as well.
7. They have an eco-friendly mascot and an inspiring slogan
The motto of the Games is "Viva sua paixão," translated from Portuguese to mean "Live your passion."
The Olympic mascot, named "Vinicius," after musician Vinicius de Moraes, is a walking, jumping, colorful mixture of Brazilian animals, according to the National Post.
8. They come with some caution
Top golfers aren't the only athletes declining to play in the Games because of the Zika virus: U.S. cyclist Tejay Van Garderen, Montenegrin-born Canadian tennis player Milos Raonic and Romanian tennis player Simona Halep are also staying home. Same goes for "Today" co-host Savannah Guthrie, who would have been a prominent figure in NBC's coverage of the Games. British long jump champion Greg Rutherford is going, but not before freezing sperm in an effort to avoid complications to his ability to have children in the future, according to Newsday.
9. They'll feature a ton of stars and stripes
The United States is expected to send the most athletes of any visiting country, as it did for London in 2012. U.S. athletes won 46 golds and 104 medals in 2012, both top figures, according to the Associated Press. Due to a favorable time difference — Rio time is just an hour ahead of New York and four hours ahead of Los Angeles — this year's Games are expected to be one of the most watched sporting events in American history.
10. They aren't over in August
Some of the world's most inspiring and amazing athletes will compete in the Paralympic Games from September 7 to September 18. Athletes will compete in 24 sports including Paralympic-specific sports like goalball, sitting volleyball and wheelchair basketball.
Read more: