Meet Bernie Sanders' Silent Majority: The Revolutionaries Now Backing Hillary Clinton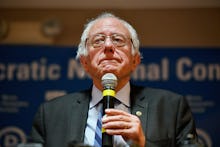 PHILADELPHIA — Sen. Bernie Sanders has been making the rounds at the Democratic National Convention, urging his supporters to vote for his one-time foe Hillary Clinton so his movement can accomplish its progressive goals.
And if you search hard enough, you'll find some of his delegates gathered here in Philadelphia already ready to heed that call.
"He very specifically, in front of the whole audience, told us, 'On the roll call, vote for me, and then get ready to make Hillary president of the United States,'" Larry Murakami, vice chair of the Alaska Democratic Party and a Sanders delegate, said of Sanders' prime-time speech at the DNC Monday night. "So, If I'm a supporter of Bernie and that's his clear message today, then sure, that's my goal."
Jose Caballero, a Sanders delegate from California, fiercely condemned the DNC's treatment of Sanders and his supporters at the convention. Nevertheless, speaking outside the Wells Fargo Center on Tuesday, Caballero said he would back Clinton in the fall.
"I'm a Latino American. I cannot allow Trump to be president for one day," Caballero said. "I respect my grandparents too much, who fought to get into this country."
Polling from the Pew Research Center found 90% of Sanders supporters will vote for Clinton in November.
But for many Sanders delegates here — who either paid thousands of dollars out of their own pockets to travel to Philadelphia to support Sanders or spent months of time raising the funds to get here — it will take time to get behind the candidate they viewed as their foe for the past year.
"Pulling that lever at this moment stings a bit."
Ultimately, they said they could see themselves voting for Clinton in November, describing their road to support as a "process." But for them, that process is just beginning, a day after Sanders' presidential campaign officially came to an end.
"I'm a longtime Democrat ... and so I'm probably still going through a bit of a grieving process. Right now my focus is really to work on down-ticket people and to work on issues that matter to me," said Ben Kemper, a California delegate who was also on the platform committee. "I do not want Donald Trump to be our president, at all. I think he's literally a very, very dangerous person. And I'll probably come to a decision that makes sense to prevent that. But pulling that lever at this moment stings a bit."
Jonathan Holt, a California delegate who was wearing a T-shirt emblazoned with the Clinton logo followed by the text "...if Bernie Sanders isn't an option," said he is still wrestling with the decision of whether to back Clinton. He said the threat of Trump could help him get there.
"I honestly at this moment don't know. And I'm talking with a lot of people and I'm searching my own heart and I will have to vote my conscience in November," Holt said. "Right now it's telling me to keep Donald Trump out of the White House."
Stefan Becket contributed reporting.
Read more: