Netflix's 'Gilmore Girls' Revival Trailer Is Here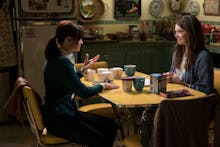 Fans of Gilmore Girls, there are two bits of good news. One: The new episodes have a release date. Two: there's a teaser trailer to tide you over until then.
Wednesday, Netflix dropped the first footage from the revival series Gilmore Girls: A Year in the Life onto some of their international Twitter accounts, including France's @NetflixFR. Later, Netflix dropped the official teaser on their YouTube channel.
The clip features Lorelai (Lauren Graham) and Rory (Alexis Bledel) Gilmore talking about whether public figures that have become famous since the show went off the air would like Lorelai, including Amy Schumer and John Oliver. Rory's guess: They wouldn't be fans.
Gilmore Girls: A Year in the Life will be out Nov. 25 on Netflix.
Read more:
July 27, 2016, 2:34 p.m. Eastern: This story has been updated.