The New York Botanical Garden's Corpse Flower May Finally Bloom After 10 Years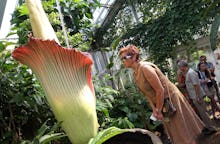 The New York Botanical Garden has been waiting a decade to smell like rotting flesh — and the wait may soon be over.
This is the Amorphophallus titanum, better known as a corpse flower, which is currently residing at the NYBG. After 10 years of waiting, the rare plant is finally set to bloom — and release a smell like literal death.
The NYBG, on its website, is calling it "a horticultural jewel 10 years in the making."
"Each day of careful tending and feeding has led up to this moment: a brief yet glorious window in which the enormous plant (up to 8 feet high) will unfurl, displaying the striking red interior and uncanny scent to which it owes its name," the page said.
How it works: When the corpse flower finally blooms, the flowers hidden in its massive outer layer release a heinous death stink that insects love. In turn, the flower needs the insects for pollinating, which the titanum supports by heating itself up to around 98 degrees Fahrenheit. Huzzah! You've got stinky symbiosis.
In case you don't live in New York — or rotting death doesn't smell good to you — the NYBG's Corpse Flower Cam offers a live feed of the phenomenon. But you should start watching soon: The bloom peak only lasts around a day and a half — and then it's done.
If you don't want to spend hours watching a livestream of a flower, you can see a time-lapse version of the bloom — this one from the Chicago Botanic Garden — below:
Read more: