Trump Wants Russia to Launch Cyberattacks Against the U.S. Russia Is Happy to Oblige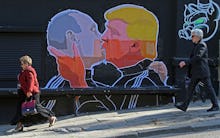 At a rambling press conference on Wednesday, Donald Trump delivered a message to Russia: Please hack the United States government to embarrass Hillary Clinton.
"Russia, if you're listening, I hope you're able to find the 30,000 emails that are missing," Trump said.
Cyber security experts are appalled that a presidential candidate would call for a hostile power to commit espionage against his own country. By asking the Kremlin to meddle in an American election, Trump is allying with a foreign government with a recent history of using hacking to allegedly influence foreign elections.
Former Nixon Library director Tim Naftali said Trump's call for Russia to hack the U.S. is "likely the most outrageous thing ever said by anyone wanting to lead a superpower." Benjamin Wittes, a senior fellow at the Brookings Institution, told Mic over the phone that "thousands of men and women work to prevent cyberattacks on the United States." Trump is calling for those people to fail.
The proposal Trump made is not a hypothetical, as Russian operatives are already engaged in influencing elections around the world. The hack against the Democratic National Committee — on Friday, Wikileaks published 20,000 internal emails from the organization — embarrassed the Clinton campaign and inadvertently exposed the private information of scores of  innocent people. FBI insiders have attributed the attack to Russian hackers, who say its purpose was to help Trump's campaign.
"Everyone hacks and tries to steal secrets," Peter Singer, strategist and senior fellow at left-leaning think-tank New America, told Mic over the phone. "The difference is the dumping of it in order to influence an election."
Russia's game of trying to secretly exert influence over foreign elections using seemingly independent proxies is an ongoing global project. The White House and Germany have blamed Russia for hacks against assistant secretary of state Victoria Nuland in 2014 and German chancellor Angela Merkel in 2015, respectively.
"Everyone hacks and tries to steal secrets. The difference is the dumping of it in order to influence an election."
Where the Russian government is reluctant to take dramatic offensive measures against the U.S., the Kremlin deputizes outside proxies to fulfill its agenda, according to Andrei Soldatov, expert on Russian internet security issues, who spoke to Mic on Wednesday. As Soldatov writes in his book "The Red Web," Putin's close allies began funding and emboldening pro-Kremlin youth movements to do work that they couldn't themselves in the 2000s — a tactic they've carried over into their cybersecurity strategies today. During the Ukrainian conflict, pro-Russian hacking groups regularly exposed classified documents that painted the Ukrainian establishment as being in bed with the U.S.
"They're allowed to use proxy guys, so the long line between the Kremlin and the hackers provides the government with plausible deniability," Soldatov said.
Any candidate seeking the highest office in a democratic country should condemn a foreign nation exerting secret influence over its elections. Not so with Trump. During the press conference Wednesday morning, Trump was asked if he would condemn Russian interference in the American democratic process — to simply say he was against a foreign country meddling in our elections.
"I'm not going to tell Putin what to do," Trump responded. "Why should I tell Putin what to do?"
The Clinton camp's response to Trump's call for foreign espionage against their campaign echoed the same sentiment as the slew of cybersecurity experts.
"This has to be the first time that a major presidential candidate has actively encouraged a foreign power to conduct espionage against his political opponent," Clinton senior advisor Jake Sullivan said in a public statement. "That's not hyperbole; those are just the facts."
Read more: