Anonymous Targets Sarah Silverman Because She Dissed "Bernie or Bust" Supporters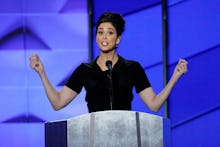 Actress and comedian Sarah Silverman's Twitter was hacked on Wednesday, with a now deleted tweet linking to a video condemning Hillary Clinton. The hack — which has been linked to Anonymous — comes days after Silverman called "Bernie or Bust" supporters "ridiculous."
Silverman has been a vocal Bernie Sanders supporter, but at the Democratic National Convention on Monday, she called out the Sanders supporters who refuse to vote for Clinton. 
"To the 'Bernie or Bust' people, you're being ridiculous," she said.
On Wednesday, Anonymous posted the tweet to Silverman's account, which included the hashtags #Hilary4Prison and #Anonymous, as well as "America, are you awakening?" in both English and Russian, the Daily Dot reported. 
Silverman responded in a tweet saying, "MY TWITTER ACCT GOT HACKED THIS IS NOT ME," linking to the now-deleted Anonymous tweet. 
The video included in the hacked tweet was posted by the Anonymous Official YouTube channel and includes an open message to Clinton condemning her for lying. "We are Anonymous," the video states. "We do not forgive. We do not forget." 
Read more: