How rising artists are pursuing their dreams while balancing crushing student loan debt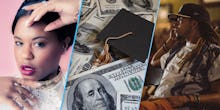 Krystal Metcalfe knows how to command a stage. Her energy is electric and her bluesy, infectious vocals help crowds transcend the stresses of their days. But when the 29-year-old singer kicks off her heels and settles in for the night, she can't even depend on watching Netflix — she's still mooching off her parents' account. "There's definitely no guacamole in my Chipotle," she admitted in a recent phone conversation. The crippling burden of her student loans haunt her when she's off the stage.
By day, Metcalfe is a recruiter at a marketing company in Chicago. Mic spoke with her while she was on break, holed up in one of her office's storage closets for privacy. By night, she's chasing her "superhero career," one that involves performing across the city with her band, working on her forthcoming debut EP, and trying not to think about the upcoming bill cycle. It's a struggle she shares with many artists across the country who have money tied up in America's current student loan crisis. Metcalfe's situation recently inspired her to release a fuck-you anthem to one of the most notorious providers in the country, Sallie Mae. 
It's not just the small niceties Metcalfe and her husband can't enjoy: "My husband and I both have jobs, and it's not like we're sitting around asking for anybody to help us," Metcalfe said. "But when out interest rates are over 7%, and the cost of education is constantly soaring higher and higher, that's where the issue lies: What are we supposed to do to take care of our daily lives while trying to live your best life?"
She doesn't have an answer. No one really does. The $1.2 trillion student loan debt bubble continues to expand, affecting over 40 million Americans and their families. 40% of student-loan borrowers fall into a state of delinquency within their first five years of repayment, and the majority of those still currently paying loans are in their 30s. And it's only getting worse.
Stories like Metcalfe's have found their way into an unpredictable election year, with both leading presidential candidates addressing student loan debt to some extent throughout their campaigns. While former Secretary of State Hillary Clinton has offered up a comprehensive plan to tackle the crisis, real estate tycoon Donald Trump has said he'd do "a lot of great things" for people like Metcalfe suffering from the unbearable burden of crushing student loan payments. 
"I want to be a full-time musician," Metcalfe continued. "But sometimes you have to take care of the responsibilities first while you keep working towards your goal."
Nobody understands that harsh reality better than entrepreneur and student loan guru Andy Josuweit. He's experienced the struggle, as he outlined in a recent interview. After graduating in 2009, Josuweit was drowning in six figures of student debt across 16 loans and three different providers. He struggled for years to make headway on his payments before founding Student Loan Hero, a free tool for borrowers to help others make sense of their loans and providers, in 2012.
"It's an extremely confusing way to introduce people to some of the first bills they'll ever have to start paying," he said. "A lot of people have their head in the sand and don't want to confront the fact they have so much debt. It's painful and you feel like you're never going to come out of this situation."
But Josuweit admits it takes more than just understanding ones loans to pay them off — there has to be some source of income, even for a struggling artist like Metcalfe. "You've gotta fake it till you make it," Josuweit said. "You have to find side gigs, side hustles, work your other talents and ask yourself, 'How can I get paid to learn?'"
The best answer is to find the side hustle of your dreams — one that will not only teach you new skills, but will also help you hone your artistic identity. It's the solution New Orleans-based rapper Dee-1, author of the viral hit "Sallie Mae Back," found through his middle school teaching job, which he worked until he signed a record deal, allowing to pay back his loans in one lump cash sum.
"So many people feel hopeless, and they feel angry, and I just wanted to give people some hope that talks about finally getting over that major hurdle in life," Dee-1 said in a recent phone conversation. "So many people are trapped in that debt. They have people looking for you, calling you every month and asking you to put aside your hobbies and creativity to make them money. But you really only have a certain window of time to make it in the music industry, especially in hip-hop."
Dee-1 had a hard time paying back his loans after graduating from Louisiana State University. He watched his friends and fellow artists have their dreams crushed by their debts. Thankfully Dee found teaching. It was a job he could happily commit his time to while he worked on his raps, and working with kids changed him for the better.
"I honestly think being a teacher shaped me into who I am as an artist," Dee-1 continued. "That is where a lot of my social responsibility was hammered home, and I felt that tug on my heart to be a positive role model, a positive light in the world. It's because I saw directly how the students were influenced by hip hop that made me more aware of the music i was creating in the genre. I'm very happy that I can say I'm a former middle school teacher."
Still grinding to support her dreams, Metcalfe hasn't quite yet reached this relative serenity. It'll likely be a lot easier to talk glowingly about the hustle once the loans are off her back. Right now, she can't stop thinking about them. 
"You know that Beyoncé meme about student loans?" she asked. "Yep, that just about sums it up for me."
Her willingness to continue the fight and face her reality with a sense of humor seems to suggest she'll push through. Great artists have been doing so for years.
"I don't think about what a singing career would be like if I never had to pay them back," Metcalfe said. "Because paying back these loans have shaped me into who I am, and taught me how to get where I want to be. Just like anything else."
Read more