Donald Trump and Russian President Vladimir Putin's Bromance Runs Deep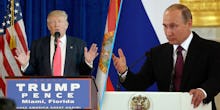 On Wednesday, Donald Trump delivered what can only be described as a series of truly bizarre remarks during a press conference in Florida. 
In between suggesting the United States' standards for torture are "out of date" and instructing a female reporter to "be quiet," the Republican presidential nominee went on the record encouraging the same Russian spies suspected of leaking sensitive Democratic National Committee materials in July to root around for Hillary Clinton's "30,000 emails that are missing."
Incredibly, encouraging foreign espionage perpetuated against the United States weren't the only words sent from Trump to Russia, with love. Trump also claimed Russian president Vladimir Putin has used "the n-word" to describe President Barack Obama in the past — and, in the same sentence, said that he thinks Putin would respect him if elected president, adding, "... and I hope he likes me."
Confusingly, Trump also made claims during the same press conference that he has never spoken to Putin himself, while simultaneously bragging about their supposed exchanges later in the interview. 
But Trump's Wednesday remarks were far from the first time Trump has spoken publicly about his relationship with the Russian president. So, how do the two men really feel about each other? Let us count the ways:
Putin <3 Trump
In December of 2015, Putin praised the then-primary candidate Trump for his business acumen and temperment.
"He is a bright and talented person without any doubt," Putin told the Russian TASS news agency, adding that Trump possesses "an outstanding and talented personality."
He also deemed Trump "the absolute leader of the presidential race" — comments that Trump himself received warmly.
Trump <3 Putin
In the immediate aftermath of receiving Putin's support, Trump released a response through campaign manager Hope Hicks expressing his gratitude — and his belief that the two men, who both harbor demonstrably isolationist tendencies, would work well together.
"It is always a great honor to be so nicely complimented by a man so highly respected within his own country and beyond," Trump said in the statement. "I have always felt that Russia and the United States should be able to work well with each other towards defeating terrorism and restoring world peace, not to mention trade and all of the other benefits derived from mutual respect."
Graffiti Putin and Trump <3 each other
In May, a graffiti mural depicting Trump and Putin kissing appeared outside of a barbecue restaurant in the Lithuanian capital, Vilnius. 
The phrase "Make everything great again" appeared etched next to the artwork, according to CNN. 
Although Trump and Putin might not be meeting as heads of state just yet, the two seemingly share a level of respect for each other that has been unprecedented amid the past several decades of tension between Russia and the U.S.
Read more: