The Turkish Government Just Shut Down Over 100 Media Outlets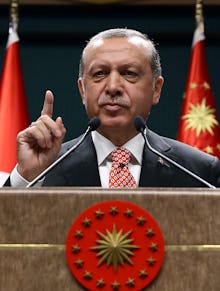 The Turkish state media is reporting its government has cracked down on scores of media outlets, including 45 newspapers, 16 television stations, 15 magazines, 23 radio stations and three news agencies, according to Reuters and the Associated Press.
This display of authoritarian control comes roughly two weeks after the failure of an attempted coup reportedly orchestrated by a subgroup of military defectors on July 15 hoping to oust President Recep Tayyip Erdogan. Loyalists to the president and his ruling AKP party, however, managed to thwart the defectors' efforts. 
Erdogan was quick to tighten his grip on the country in response. "[The armed forces] will pay a heavy price for this," he said after the failed coup, Reuters reported. "This uprising is a gift from God to us because this will be a reason to cleanse our army."
Since July 15, over 15,000 people in Turkey have been detained, CNN Turk reported, according to Reuters. Among them are soldiers and military officials, judges, lawyers, teachers and journalists.
On Wednesday, 47 former employees of the Turkish newspaper Zaman were ordered to be detained, and 13 were taken into custody, according to the Anadolu Agency.
Zaman was linked to the religious movement of self-exiled Muslim cleric Fethullah Gulen, who Erdogan is now trying to get extradited from the United States, Politico reported. Turkey has blamed the 77-year-old Gulen for the attempted coup.
This story is breaking and will be updated.