Questlove Pens Powerful Reminder to Bill O'Reilly on How Abominable Slavery Actually Was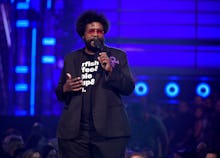 Questlove is determined not to let Bill O'Reilly get away with re-writing the history of slavery. 
On Monday, Michelle Obama reminded the world that the White House was built by slaves during her Democratic National Convention speech. Following FLOTUS' speech, O'Reilly told his audience during the "Tip of the Day" segment on his show that Obama was "essentially correct," but felt the need to add that the slaves were "well-fed and had decent lodgings provided by the government."
In case anyone was actually going to get fooled into thinking that slavery was essentially a government housing and food stamp program, Questlove dropped the necessary and brutal truth: "Slavery was inhuman," he wrote on Instagram, "Slavery was sadistic. Slavery was uncomfortable. Slavery was unjust. Slavery was a nightmare."
"I'd like to think most of you have common sense," Questlove went on. "But there is nothing more dangerous than a man in a suit pretending to be a journalist giving revisionist history on the ugliness that was slavery." 
What's so fun and lighthearted about being shackled? Being separated from your loved ones? Being molested and raped HOURLY, being branded with hot iron? Being property? Being castrated? Being flogged? Being malnourished? Living in high stress conditions? Forced to lay in your own feces? Being sold in a heartbeat? Suppressing ANY emotion.
He offered a few notes about the lengths slaves went through to hide their emotions from owners, including hiding their laughter by submerging their heads in water — which Questlove notes is where the colloquialism "barrel of laughs" comes from.
Questlove was hardly the only luminary to weigh in on O'Reilly's comments. Andrew Rosenthal, an Op-Ed columnist for the New York Times, argued the pundit "personally owes us all an apology." Shonda Rhimes also tore into the perpetual antagonizer in a short rant Twitter this morning.
O'Reilly's take on the "facts" behind slavery amounts to little more than trolling actual historical summary. It's clear the pundit has a lot more studying to do if he has ambitions to educate his audience about the true reality of slavery and the fall out it has left behind.
Read Questlove's full post here.
Read more: