Kristen Stewart Has Opened Up About Her Relationship With Girlfriend Alicia Cargile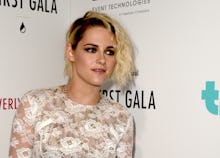 Kristen Stewart's Twilight character Bella may have been all about that sparkly vampire D, but the actress has gone on the record saying that when it comes to real life, she's "so much happier" being in a relationship with a woman.
In a new interview with Elle U.K., the actress opened up on her past relationship with Twilight co-star Robert Pattinson — and then commented on her current relationship with visual effects producer Alicia Cargile:
When I was dating a guy I was hiding everything that I did because everything personal felt like it was immediately trivialized, so I didn't like it. We were turned into these characters and placed into this ridiculous comic book, and I was like, "That's mine. You're making my relationship something that it's not." I didn't like that. But then it changed when I started dating a girl. I was like, "Actually, to hide this provides the implication that I'm not down with it or I'm ashamed of it," so I had to alter how I approached being in public. It opened my life up and I'm so much happier.
"I think also right now I'm just really in love with my girlfriend," she added. "We've broken up a couple of times and gotten back together, and this time I was like, 'Finally, I can feel again.'"
This kind of candid relationship talk is rare for Stewart. She's known for being a somewhat private celebrity, and she once told the Today Show that she is a "fairly internal person." Looks like being madly in love has finally emboldened her to live out loud!
Read more: