Wedding Registry Checklist: 6 Rules to Ensure You Get the Gifts You Need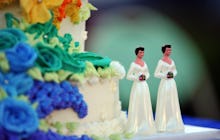 The process of planning a wedding can be intimidating, to say the least. From picking the venue to choosing the food to selecting the right flowers, there's a lot of decision-making required to prep for the big day. 
And there's the almighty gift registry: a massive undertaking that presses pre-newly weds to consider what kinds of items they might need for the rest of their lives together, all under the pretense of being a reasonable request. (How many $200 salad bowls does a person really need?)
While it might feature some linens and an electronic gadget or two, the majority of the registry tends to center around the kitchen. Couples must decide between silverware patterns, hundreds of kinds of glassware, matching plates and bowls and an innumerable amount of gadgets and doodads. It can make walking around a HomeGoods feel like drowning in the ocean with no real lifeboat in sight. (A lifeboat-shaped mailbox, however, could be downstairs in the knick knacks department.) 
So Mic enlisted the help of Katie Jayne Sprenkle, a seasoned wedding event and design director, to offer up her rules for simplifying the process. The six registry commandments below will keep couples sinking in the choppy waters that is creating a wedding registry — and keep the kitchen from getting cluttered, too. 
1. You don't need a waffle maker. 
In other words, keep it simple. Do you really need a vegetable spiralizer or three different kinds of coffee makers? Sprenkle says her most important piece of advice is to keep it as simple as possible when building a registry. "Couples should only register for things they really need," she said over the phone. Couples should "focus on upgrading the current kitchen things they have." For example, rather than asking for an absurd number of gadgets, ask for some fancier silverware.
A very basic registry should include the following:
• A couple of nice serving items
2. A cast-iron pan is a smart investment piece.
Sprenkle recommends asking for cast-iron ones over nonstick because they last much longer. "I was gifted a cast-iron grill pan for my wedding and we use it all the time," she said. 
While a dutch oven isn't technically made of cast iron, Sprenkle recommends putting one or two of them on your list, too. They can last a lifetime and are great for things like making stews and braising meats. 
3. China isn't a necessity.
While fancy china is a traditional wedding registry staple, Sprenkle said there is no need to include it on your list. "[China] is definitely a thing of the past," she said. "It's expensive and people don't really entertain with china anymore, anyways."  
Instead, upgrade to fancier everyday dishes. "For people who are traditional and still want china, I say make your everyday dishes nicer and ask for more of them. Register for at least eight to 12  pieces of everything in case they get discontinued."
4. When it comes to appliances, less is more.
A fancy panini sounds idillic, but asking for something that takes up a ton of counter space is probably pointless — especially if you won't use it every day. (If you're eating homemade pressed panini 24/7, power to you.) "Register for stuff you are going to use all the time like a fancy coffee maker if you really love coffee," Sprenkle said. 
"Young couples, especially those who live in large cities, tend to not have a lot of counter space, so they should only ask for appliances they are going to use frequently," she noted. 
5. You don't have to register with a brick and mortar store.
Sprenkle is a proponent of online registries that don't require people visit stores. "My favorite is Zola, which lets couples combine items from a number of different sites into one registry," she said. One cool feature of the site? It'll alert you when someone buys you something off the registry and lets you decide if you still want the item. If you change your mind, Zola will send you store credit worth the amount of the gift, so you don't have to deal with annoying returns.
6. It's OK to gift off the registry, but be smart about it.
This one's for the gift-givers (chances are if you're having a wedding, you'll also be attending a couple yourself).
 "A lot of people get upset when you buy them stuff off registry," Sprenkle said. "They spent all of this time registering for stuff and then they end up with like 100 bowls." 
Still, there are smart and thoughtful options for those who'd rather gift something more surprising. "Blue Apron and wine of the month clubs are great for new couples," Sprenkle said. Young couples and those who don't cook a tremendous amount will be excited to try something new together, she explained. And a wine of the month club needs no explanation. 
The one thing Sprenkle said all gift-givers should stay away from? Cookbooks. Unless the couple is registered for it, Sprenkle advises against this gift because the books take up a lot of space.
Read more: