Joe Biden: Donald Trump Is a "Bunch Of Malarky"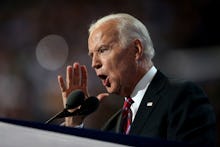 PHILADELPHIA — Vice President Joe Biden tore into Donald Trump Wednesday night, rousing the already rowdy crowd at the Democratic National Convention by saying the Republican presidential nominee is a threat to the United States, who "has no clue about what makes America great."
Biden's face grew stern and his voice louder as he trashed Trump's character, saying he doesn't care about the middle class, and instead "seeks to sew division in America for his own gain and disorder around the world."
"Hes trying to tell us he cares about the middle class, give me a break — that's a bunch of malarky!" Biden said.
The vice president added it's imperative Americans keep Trump out of the White House, saying the country cannot afford a "man who exploits our fears" and "who has no plan whatsoever to make it safe."
Before assailing Trump, Biden sought to be a character witness to Hillary Clinton, whom he worked alongside as she served as secretary of state.
"Everyone knows she's smart. Everyone knows shes tough. But I know what she's passionate about. I know Hillary," Biden said, adding that Clinton is passionate about education and keeping Americans safe.
In ending his speech, Biden brought it back to Trump, issuing a warning to a candidate who has vowed America is no longer great — and needs to be made great again.
"It's never been a good bet to bet against America," Biden said.
Read more: