Donald Trump Adviser Rudy Giuliani Says It's Time to Start Electronically Tagging Muslims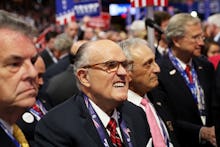 Former New York City Mayor Rudy Giuliani, who has emerged as a prominent adviser and campaign surrogate for Republican presidential nominee Donald Trump, told reporters on Wednesday he would support requiring all Muslims on federal terrorism watch lists to wear physical tracking devices to monitor them at all times.
Giuliani also seemed to hint the tracking devices would act as a visual warning to others that the person in question was a potential threat.
"I would think that's an excellent idea," Giuliani said, according to NJ.com. "If you're on the terror watch list, I should know you're on the terror watch list. You're on there for a reason."
As mayor of New York during the Sept. 11, 2001 terror attacks on the World Trade Center, Giuliani was widely praised for his initial response to the disaster — but in recent years, has become an outspoken advocate of putting the nation's mosques under surveillance. Giuliani's role in launching a New York Police Department unit that spied on every place of Islamic worship within 100 miles of the city, including places not under its jurisdiction, has also since come under fire.
Giuliani isn't the first member of the pro-Trump camp to intentionally or otherwise lift ideas from the darker side of history.
Just weeks ago, Trump himself was in hot water after posting to Twitter an image of the Star of David — a Jewish symbol used by the Nazis to label Jewish concentration camps slated for slave labor or extermination — accompanied by a photo of Hillary Clinton over a pile of money. A Mic investigation later revealed the image circulated on a white supremacist forum before it ended up on the candidate's account.
It might be appropriate to wonder just where Giuliani is taking his cues on what kind of solution is needed for supposed Muslim extremists in the U.S.
Read more: