Donald Trump's Reddit AMA Is an Absolute Joke. Here's Everything He Said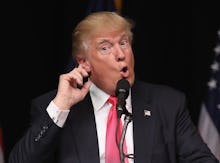 On Wednesday evening, Donald Trump faced his biggest stage yet — on Reddit, the "front page of the internet," where he took community questions in an Ask Me Anything session. With the energy of the free-speech-loving Reddit community and the unpredictable boorishness of Trump, this had all the ingredients for the internet's most entertaining Q&A ever. 
Unfortunately, it's boring as hell. Trump held the AMA on his fandom's massively popular subreddit /r/The_Donald, rather than the usual /r/IAmA. The session was heavily filtered by pro-Trump moderators, meaning the visible questions were softball pitches, and many that didn't fit the mold were deleted — including this one, allegedly from a Muslim user, according to Motherboard's Jason Koebler. (Trump is, after all, the "law and order" candidate.)
Moreover, Trump avoided any kind of nuanced or detailed explanation, opting instead to write vague, trite one-liners and repeat the phrase "Crooked Hillary Clinton." The subreddit, which is obsessed with mocking political correctness and "safe spaces," ended up creating a nice cushy bubble for its leader. 
Here's how he took advantage of it.
We will always stand with and support our nation's amazing police. There is nothing more honorable then serving your community and your country as a law enforcement officer. My administration will protect those who protect us. Thank you to all the incredible police officers in our country tonight.
I am never tired of winning, and as your president I will win for you, the American people. I'm with you!
There have been many amazing Presidents in American history, including George Washington, Abraham Lincoln, Dwight Eisenhower and Ronald Reagan, all of whom I greatly admire.
One of the first things I will do is to repeal and replace disastrous Obamacare. I will put forward an amazing new plan, which will include many reforms, such as letting people buy insurance across state lines, increasing choice and competition, and bargaining for better, cheaper drug prices.
The question most young people ask me is about the rising cost of education, terrible student debt and total lack of jobs. Youth unemployment is through the roof, and millions more are underemployed. It's a total disaster! I will create millions of new jobs, reform our education system, and work to free young Americans from the awful burden of debt.
I have put forward a detailed plan for H-1B reform to protect American workers which can viewed on the immigration paper on my website. My plan is the exact opposite of Crooked Hillary Clinton.
Keeping Crooked Hillary Clinton out of the White House!
Honestly I think NASA is wonderful! America has always led the world in space exploration.
I have been very concerned about media bias and the total dishonesty of the press. I think new media is a great way to get out the truth.
Though Bernie is exhausted and has given up on his revolution, many of his voters still want to keep up the fight. I expect that millions of Bernie voters will refuse to vote for Hillary because of her support for the War in Iraq, the invasion of Libya, NAFTA and TPP, and of course because she is totally bought and sold by special interests. She and her husband have been paid millions and millions by global corporations and powerful interests who will control her every decision. She is their puppet, and they pull the strings.
Americans in every party are tired of our rigged system and corrupt politicians, and want to reform our government so it no longer benefits the powerful at the expense of everyone else. They know I will fix it so it works for them and their families. Hillary Clinton's message is that things will never change. My message is that things have to change, and they have to change right now.
This story is developing.
Read more: