For Once, Donald Trump Had Nothing to Tweet After Obama's DNC Speech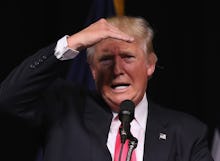 Following President Barack Obama's keynote address at night three of the Democratic National Convention in Philadelphia on Wednesday, one of the country's most outspoken Obama critics seems to have found himself at a loss on what to say.
Or tweet, rather.
Following the president's optimistic speech — in which Obama defended his record, slammed Trump as an unworthy successor to the office and endorsed former Secretary of State Hillary Clinton as someone who has always "been there for us, even if we haven't always noticed" — Trump sent out just two tweets. Neither of them were original Trump content.
In one of the tweets, Trump quoted a surrogate critical of Obama's attitude toward the candidate's promise to make members of NATO pay more for the defense of Europe.
In another, Trump simply retweeted an account (@trumplican2016) which posted "stay the course mr trump your message is resonating with the PEOPLE" [sic].
As of 1 a.m. Eastern, Trump did not weigh in on Obama's speech further, which is interesting because Trump rarely misses an opportunity to paint Obama as an incompetent (and suspiciously pro-Muslim) buffoon.
Trump has gone silent on Twitter several times before, and he will probably be ready with some zinger after his alleged four hours of daily sleep, but it certainly seems that for one reason or another, the cat has successfully run away with Trump's tongue.
The president, for his part, had considerably more to say about the Republican nominee.
"Ronald Reagan called America a 'shining city on a hill,'" Obama told the DNC crowd. "Donald Trump calls it 'a divided crime scene' that only he can fix. He's not actually offering any real solution to those issues. He's just offering slogans, and ... betting that if he scares enough people, he might score just enough votes to win this election.
"That is another bet that Donald Trump will lose."
Read more: