WikiLeaks Just Published a Bunch of DNC Voicemails — But They're Not What You Think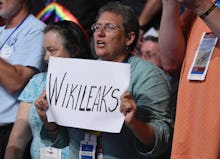 On Wednesday, WikiLeaks tweeted a slew of voicemails from the Democratic National Committee hack — the same attack that let fly a damning series of emails from DNC staffers.
But unlike the 19,000-email leak, a serious matter under investigation by the FBI, the contents of which suggested the DNC was looking for ways to knock Bernie Sanders out of the presidential race, the released voicemails were little more than grumpy donors who didn't like how things were being run. That is, instead of confidential emails between staffers, these were just calls left on Committee members' voicemails.
One woman, who donated $300 to the Hillary Clinton campaign, said, "I'm furious about what you are doing for Bernie Sanders, he's getting way too much influence. I'm on a fixed income, I spent over $300, donated to Hillary, what I see is the DNC bending over backwards for Bernie and Bernie is the worst person in the world to even be running in the Democratic Party, because he's not a Democrat," according to CNN.
The first voicemail on the leak list was just 16 seconds of what sounded like a butt dial of a child talking to a man about the zoo.
Of course, none of that kept people from gushing about the results on social media, in the midst of Democratic National Convention speeches.
If butt dials and grumpy voicemails qualify as breaking news now, grandparents across America would make top news every time their printers broke.
Read more: