This Australian Cheerleader in a Wheelchair Led Her Squad to a Championship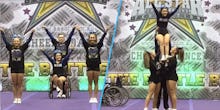 Don't be fooled: Cheerleading is wheelchair accessible. 
On Friday, the Australian All Star Cheerleading Federation shared a now-viral video on its Facebook page of the Oxygen All Stars Lithium special ability team's winning routine, featuring Debbie Stark, a young woman with cerebral palsy who uses a wheelchair. 
In the first part of the routine, Stark remains in her wheelchair, performing choreography from the waist up, perfectly in synch with her fellow teammates. They then lift Stark out of her chair and she springs into action, tumbling, posing and being lifted into the air. According to ABC News, their performance won them the title of Special Ability champions.
"The inclusion of the Special Ability division within our competitions gives athletes with special needs the opportunity to develop physical fitness, demonstrate courage and determination, experience joy and success, and participate in the social aspects of friendship and teamwork in a safe and encouraging environment,"  AASCF's executive director Stephen James told ABC News in an email. 
In an interview with Today, Stark explained she found out about the cheer squad from her own research, reaching out to the team before even telling her mother and then eventually going to try out. Stark said she now practices once a week to land the stunts she showcased in the her team's championship routine.
After her viral success, Stark wrote on her Facebook fan page "Cheertastic Deb," thanking everyone who is cheering her on.
"To everyone who is supporting me with everything, I just would like to thank you so much," wrote Stark. "I am truly blessed to have such supporting people in my life."
Read more: