Adele Invites Drag Queen Impersonator Kristie Champagne Onstage With Her in Seattle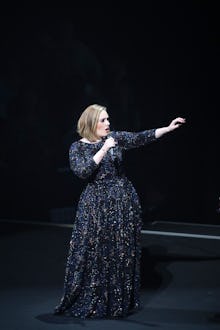 Adele found herself staring into a mirror when she looked out into the crowd at a show at Seattle's KeyArena Tuesday. Sitting in the audience was drag artist Kristie Champagne, real name Kristopher Zello, dressed almost identical to the record-smashing British songstress. "You look so amazing, oh my gosh!" Adele said to Champagne while bringing her up. 
In some of the shots shared to Instagram, it's actually a little difficult to figure out which one is the real Adele.
Adele gave the mic to Champagne for a hot second, allowing her to hype up her weekly drag performances at Julia's in Seattle. "You seriously changed my life for the better," Champagne added, as reported by Billboard. She later tweeted of the experience, "Dreams do come true."
Champagne is hardly the first Adele fan to have her dreams come true. Throughout her 25 World Tour, Adele has made a habit of calling up distinguished audience members — including 12-year-old Emily Tammam in Manchester, England, who had held a sign that read, "It is my dream to sing with Adele." The blue-eyed soul queen brought the girl up to sing "Someone Like You." 
She offered a similar invite in March to two young Irish fans, who had created a viral medley of her hits. All these examples are proof-positive: Adele is a dream-weaver, for queens and kids alike.
Read More: