Kanye West Joins Drake in Chicago, Praises His Wife's Taylor Swift-Dragging Snapchat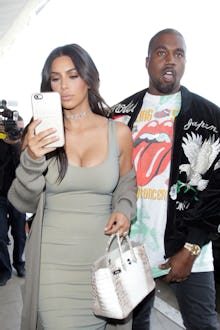 Kanye West is living a freer, happier life ever since Kim Kardashian-West became the queen of receipts (and Snapchat). The Chicago-bred rapper joined Drake at his Chicago tour stop to perform a medley of hits and celebrate he and his wife's takedown of Taylor Swift. 
"I am so glad my wife has Snapchat," West told the crowd as audiences erupted in applause and the opening of "Famous" began playing. "Cause now y'all can know the truth! And can't nobody talk shit about Ye no more."
The pair have been keeping Swift on blast since Kardashian-West's internet-breaking Snapchat story, which revealed her husband did in fact call Swift to inform her about the line in "Famous" that references her, despite the singer adamantly denying that fact. Swift later tweeted an admission that the call did happen, but that West never said he was going to refer to her as "that bitch" in his lyric.
Kardashian-West was later snapped casually singing along to the line "I feel like me and Taylor might still have sex, Why?/ I made that bitch famous." Oh, Kim. 
West's surprise "Famous" performance lit the crowd up. He also rapped his verse on "Pop Style"and his Life of Pablo track, "Father Stretch My Hands Pt. 1," Pitchfork reported.
Read more: