JoJo Releases New Song "Fuck Apologies." Teases 'Mad Love' Album Release Date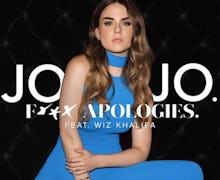 It's official: JoJo is back. The early 2000s hit-making queen has finally returned to the music scene with the release of her first single from her upcoming album Mad Love — her first in a decade — titled "Fuck Apologies."
The 25-year-old's latest single relies on some standard tropes of 2016 top 40 pop: finger snaps, synth stabs and JoJo's classic use of layered vocal tracks. The track also features Wiz Khalifa, who spits a short verse about ditching a liar trying to apologize.
Fans of the pop star have known something big from JoJo was on its way.
"Everything starts with music for me, it's been the most consistent thing in my life," JoJo said in a video teasing the upcoming album uploaded to Instagram on Monday. "I don't have a shtick, I don't have an angle, it's just me and my music. It's time."
Then, just before releasing her new single on Thursday, the singer uploaded a photo of an apparent pregnancy test. But the image instead seems to confirm JoJo's upcoming album release date of October 14, with the initials "ML" written on the kit.  
Call it the birth of a new album — or, better yet, the rebirth of an artist once featured on every millennial's iPod shuffle.
Read more: